News Archive >> STAFF DIARY - "NANA the Movie 2" Progress Report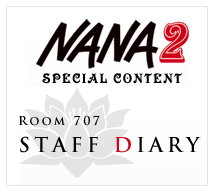 STAFF DIARY
"NANA The Movie 2"
Progress Report
The staffers of "NANA 2" blog about the progress of the film in the official NANA movie site, "Room 707." These are cute little entries, posted with photos, to let the fans in on the action. =) You'll be able to see all the hard work they put in for "NANA 2." Read, enjoy, and wish for the wonderful movie to be out soon!
"Good evening. We're Blast." - October 26th 2006 - 12:54 A.M. - Blogged by MMT





Its Blast! A great live was executed. More details tomorrow!
"Poster Finished!" - October 25th 2006 - 10:01 A.M. - Blogged by SPK





The second version of the "NANA 2" poster has finally been finished! Currently, the first posters with the microphone are now in movie theaters. The second version posters, which feature Nana and Hachi, will now begin to circulate. Seven characters are included in it. As "NANA" has 7 people.

With that aside - This time, there will be a special "Room 707" for everyone! This is an early announcement. It is still being worked on and developing, but please check it out. Next month, a list of theaters that are scheduled to show "NANA 2" (in December) will be posted. It is the work of self confidence...
"Already Taking a Break!" - October 22nd 2006 - 6:45 P.M. - Blogged by MMT





Good evening. This is MMT. This time around, there are a lot of really nice staffers. I really think that it is a blessing. HOWEVER--!! Being in a hard filming schedule, the staff members are beginning to be exhausted. We are praying for some sleep. S music's I-chan and production department's W-chan. People are tired and need to be in sufficient shape.

Already taking a break! RUN!! Ootani Group!
"Something Starts." - October 22nd 2006 - 3:49 P.M. - Blogged by ACB





Thank you thank you. It is ACB.

The community site "E-Circus" has started to supported "NANA 2" content?!
"Rubber Coaster." - October 20th 2006 - 6:40 P.M. - Blogged by SPK





Advance "NANA 2" movie ticket sales will happen on October 28th at theaters. And when you purchase the tickets, there will be a first-come-first-serve special limited rubber coaster for you. There are two different designs. The top one is Version NANA with a lotus flower. The bottom one is Version HACHI with a strawberry design. Although, each advance ticket will only get you one coaster, your friend can help you make it a set. It makes a difference. A must-have item, I think.
"Live House." - October 19th 2006 - 12:33 A.M. - Blogged by MMT





This is the live house which Blast appears in. Nana, Nobu, Shin, Yasu. Running fast towards their major debut. The members are supported by hardcore fans from their indie era. Expect Blast, gradually securing their aura, step by step. Its totally awesome.
"Commemorative Photo of the Filming." - October 18th 2006 - 8:27 P.M. - Blogged by SPK





Even though filming isn't exactly finished. After the filming of yesterday's live scene, all of the supervising staff and cast got together for a commemorative photo. Cast members in attendance who participated were Nakashima Mika-san, Narimiya Hiroki-san, Maruyama Tomomi-san, and Kanata Hongo-san. Our advertising team was able to make a poster and hung it up for the staff photo. That's how it is.

The poster is finished. I'm complimenting myself but it is wonderful! It will be posted up next month, so please look forward to it!
"Blast Live." - October 17th 2006 - 2:58 P.M. - Blogged by SPK





Today is the filming of BlackStone's live scene. The photo shows that preparations are still being done, but performing the live in front of the audience is Nana, Nobu, Shin, and Yasu.

Its ready everyone! I'm getting goosebumps.

Even though the previous live scene was wonderful; I love how this live scene has raised the scale, and I was just overwhelmed for a moment.

Now I want to be in a band too.