News Archive >> "NANA 2" First Screening & Press Conference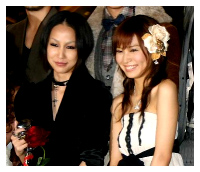 "NANA the Movie 2"
First Screening of Completed Movie
Are Mika & Yui Close Friends...?
The first screening of Ai Yazawa's manga-based movie "NANA 2," incorporated with a press conference, was held at the Tokyo International Forum in Chiyoda-ku, Tokyo on December 5th 2006. It was attended by the stars of the movie, Mika Nakashima (age 23 a.k.a. Nana) and Yui Ichikawa (age 20 a.k.a. Hachi).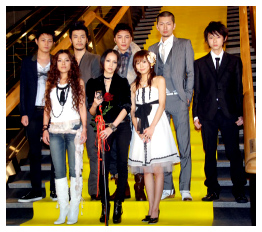 "NANA" centers it's attention on a rock band's lead vocalist; Oosaki Nana and her love, friendship and dependence for another girl, also coincidentally named Nana. Even the darker side of love, pregnancy, and the music industry is told truthfully in this story, which has sold over 36.5 million copies in manga form. The first "NANA" movie was exhibited in September 2005; Successfully attracting over 3 million viewers and 4 billion yen in box office revenue.
"NANA 2" is the sequel, in which Nana's band "Black Stones" will have their major label debut. Nana's best friend Hachi, will also be spun into a relationship with Takumi, the leader of the rock band "Trapnest." Resulting from this, Hachi will have to deal with pregnancy. Nana and Ren's relationship will also come to light and cause a scandal in the entertainment industry; As the tale will gradually lead the two Nana's to pass each other by. This sequel is the last installment of the original "NANA" movies.
Yui Ichikawa, who inherited her role previously played by Aoi Miyazaki, commented, "I did not notice it at first, but there was pressure." To establish a better relationship with her co-stars, they all had dinner together.
She was questioned, "Was love born between you and your co-stars...?"
To which Mika Nakashima declared, "Its really nothing. We're all like students."
"From a woman's point of view, its really cute," Yui Ichikawa added. As she and her co-star gazed at one another, Yui said, "Mika-chan is like a really refreshing older sister and is really cool!" They had a really great atmosphere at the press conference.
Sources @ [ Oricon Style || Yahoo Japan ]
"NANA 2" First Screening & Press Conference