News Archive >> Promotion of "NANA 2" On The Opening Day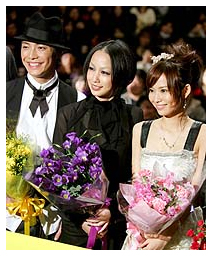 "NANA 2's" Opening Day
Mika Nakashima & Cast Members
Promote With Confidence!
On December 9th, Mika Nakashima (age 23) and Yui Ichikawa (age 20), both stars of the anticipated movie "NANA 2" (directed by Kentarou Ootani), welcomed the opening day with other cast members at Nichigeki 2 in Yurakucho, Tokyo.
"NANA 2" is the sequel to "NANA," a movie which grossed 4.03 billion yen at the box office the previous year. Nakashima promoted with a message, "We performed in this production with full confidence, and we hope that it will surely get across to you."
To which Tetsuji Tamayama adds, "We want to make 'NANA 2' more than just Number 1."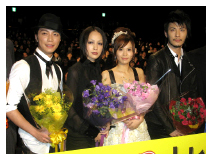 This production is the last "NANA" movie. NANA starring Mika Nakashima will release her first and last Nana Oosaki album "The End," on December 13th 2006.
Sources @ [ SANSPO News ] - December 10th 2006
"NANA 2's" First Screening
Paparazzis Hounding For Answers
Mika Nakashima's Reply: "HOW ANNOYING!!"
The production of "NANA 2" have been surrounded with many rumors. At the movie's first screening, Mika Nakashima, Yui Ichikawa, and Yuna Ito had a rare reunion during the press conference. However, reporters were extremely persistant in pushing questions regarding rumors. This caused Mika Nakashima to give the following reaction, "HOW ANNOYING!!!"
For the last year, rumors regarding the production of "NANA 2" circulated endlessly. First there were the rumors that Mika Nakashima was jealous of Yuna Ito's successful "Endless Story" single; Which fueled the gossip mills that the two have become rivals. And then there were hearsay that Mika Nakashima and Yui Ichikawa did not get along!
At "NANA 2's" first screening, Mika Nakashima, Yui Ichikawa, Yuna Ito, Tetsuji Tamayama, and Hiroki Narimiya attended to promote the film. When the cast members got on stage, they all appeared to be very happy and congenial to be together. Not only did they chit-chat about eating meals together, Mika and Yui seemed like they were the best of friends! However, reporters were relentless in hounding the cast members about negative rumors. When Mika was questioned whether or not she gave special treatment to any particular male cast member, she replied, "HOW ANNOYING!!"
Mika Nakashima's Trip To Hong Kong Has Been Cancelled.
Because "NANA 1" received an extremely great reaction from the public, Mika Nakashima scheduled herself to visit Hong Kong once again for promotion. However, because the filming of "NANA 2" took more time than it was planned, Mika hope to put more time into her career as a singer. She has decided to spend the remaining time in December to promote her new album. Therefore, the trip to Hong Kong that was scheduled on December 18th, has been cancelled. However, Mika expressed that she really loves Hong Kong. Mika Nakashima promised that one day, she will go to Hong Kong to see her fans again.
Lastly, Mika Nakashima will be singing at this year's NHK Kouhaku. During this event, Mika will be in her "Nana Oosaki" role for the last time, to perform the "NANA 2" theme song "Hitoiro."
Sources @ [ Orisun || Yahoo Hong Kong ] - December 7th 2006