News Archive >> "NANA" Being Considered For Hollywood Remake
Popular "NANA"

Being Considered For
Hollywood Remake

Translated by Lisa
The ever marketable popular manga based movie "NANA 2" will soon premiere in Taiwan. Even though this sequel is the closing chapter for the movie dilogy, the touching story will continue on. The successful combination of the manga and movie, has captured the attention of a powerful entertainment center: Hollywood is negotiating for the rights to remake "NANA."
The memorable pair of strawberry glass cups from "NANA 1," which signified the friendship of the story's protagonists, was shattered to pieces in the sequel. This wrenching segment left behind such a deep impression, that fans expressed their heart breaking while watching the scene. Even the original creator, Ai Yazawa, admitted that viewing the moment moved her to tears.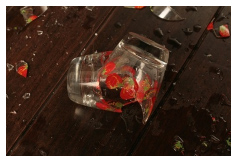 Ai Yazawa explained that composing "NANA Volume 9," in which the precious strawberry glass cups shatter, stirred up a very powerful and emotional compassion towards what her characters must've felt. She never would've imagined that seeing the actual scene being depicted on screen, would create such a heavy consciousness that she couldn't chase away. Yazawa perceived that the characters are in a way like her own children, to which she completely devotes all of her affections.
Ai Yazawa further relates that "NANA 2" may be the concluding chapter. But upon seeing a photo taken of the movie's main stars, Mika Nakashima and Yui Ichikawa, standing together amidst the busy city of New York; She felt a surfacing wave of emotions. It impressed upon her that her own creations, "Nana Oosaki" and "Nana Komatsu" may one day warmly reunite at the center of New York's cold winter. Its like the manga, movie, and reality crossed over, she says; And the effect of it's human interraction is magic.
It was revealed that during the International Premiere of "NANA 2" in New York City; Universal, Sony, and other movie companies which were interested in obtaining the rights to remake the movie, all attended to discuss and view the production. Included was MTV, who interviewed Mika Nakashima, Yui Ichikawa, and other movie personnels. It is now anticipated that "NANA" will be reborn in Hollywood.
In the sequel "NANA 2," Nana and Hachi both forge ahead to their individual goals, and learn that growing up has a price; As their dreams continually lead the characters to brush each other by. When both girls chance to think of one another, they will discover that their destinies are tightly intertwined; And remember that a promise was made to watch fireworks together.
Sources @ [ UDN Entertainment News || Yahoo Entertainment News ]