News Archive >> Olivia Talks "NANA" - Purple Sky Magazine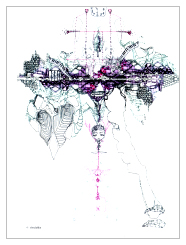 Olivia Talks "NANA"
Interview with Olivia Lufkin
Short Excerpt From "Purple Sky" Magazine
How was it to work with Yazawa Ai?
Olivia: I only met her once. She was a really tall and very strong woman. She had very artistic and creative thoughts.
Was she physically strong?
Olivia: She looked physically strong yeah. She was wearing a Yukata and she was very cool, really smart. A smart lady.
What about Anna Tsuchiya?
Olivia: I think she's really good for that part. To me she seems to really have the same personality as Nana.
Which guy from "NANA" would you date?
Olivia: I wouldn't want to be with any of them honest. But if I had to it would be Ren. Because I'm attracted to people that have something that they wanna do and they're going for it and nothing's gonna stop them. Someone that's very passionate inspires me and I feed off of it. And I like to be with someone like that, inspiring each other.
Read the rest of Olivia's Interview here:
Purple Sky Magazine - Winter 2007 Issue

Hey Everyone!

You knew the day would come, when one of the magazines that I scanned in, would bother the magazine company. And in the case of "Purple Sky," it did. So I have to take down Olivia's interview. Yea, I know it sucks. But at least "Purple Sky" was nice about it and let us use one or two photos and the excerpt. (Thank you!)

You guys can still buy the magazine. I know its sold out on "Purple Sky's" official site, so its a little hard to get. But I'm told that its on sale at selected Barnes and Nobles stores in the US. You might not live close to one... (None of the Barnes & Nobles I live near has it. Nearest one that sells it is roughly 400 to 500 miles away.) But what you can do is maybe ask a internet buddy who lives close to a Barnes & Nobles that sells it, to buy it and ship it to you. If not, then NANA-NANA.net was visited by 5,300 different people on March 11th. I'm sure someone can send you the interview. No sadness please! First time it happened to me, but its going rather smoothly.

Always, <3 Lisa