News Archive >> Interview With Hiroki Narimiya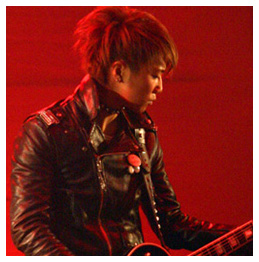 S-Woman's Interview
With Hiroki Narimiya
Translated by Ann Ogawa
(THANK YOU SO MUCH ANN!! LUFF YOU!!!)
Terashima Nobuo = Hiroki Narimiya.
BLAST's cheerful and direct guitarist Nobu will be played by Hiroki Narimiya!! We heard everything from his thoughts on the film, to behind the scene stories!
Creating Nobu's "movie world" from reading the script.
When we asked, "Have you read the manga before?" Narimiya-san answered, "To tell you the truth, I have not read most of it yet."
"It was the same as when I starred in another Ai Yazawa creation, 'Kagen no Tsuki (Last Quarter).' But I created their world based on the script and filled in the blanks with advice from the director. I think that the script is everything."
Creating a world without relying on anything… This is the same as how he played the guitar in the live scene.
"I really don't have a musician I based my play style or techniques from. I used my own inspiration. Basically, I just remembered the chords and kept my image even if I made a mistake. I place my emotions onto the songs and play."
Was it difficult practicing the guitar?
"I played guitar with HYDE-san in a scene from 'Kagen no Tsuki' and am able to play one simple song from MOZ. Therefore, I was relieved I could learn how to play faster than everybody else; I think it's much easier after you played it once. Instead of thinking, 'Since I have things to do next week, I will practice harder from now on,' I think, 'I have something to do tomorrow, so I will do tomorrow's work on top of today's work.' This has helped me to heighten my concentration."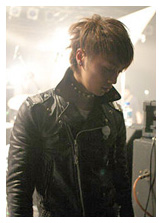 Now that Narimiya-san has a dream, he can relate to Nobu chasing his dream.
Narimiya-san says he can relate to Nobu's feelings on "chasing a dream."
"I did not have a dream when I started this job. I became an actor since I was curious and started to understand myself, find where I belong, and realize where I was standing as I started my career. From there, I was finally able to hold a dream. Nobu can just take over his family business, but instead he chased his dream and left for Tokyo, came to Nana's house and collected up the members to start the band once again. I can relate greatly to his thought of, 'Having a dream is the best thing,' and motivating yourself towards it."
How does "Nobu" look in Narimiya-san's eyes?
"He is energetic and a mood-maker in BLAST. I think that everyone has a side of shadow and light, so I want to express that in Nobu as well. He is naturally bright but when the band is breaking up, or when he has to part with Ren, I want to show his shadow-side. In that way, I think he can be more realistic."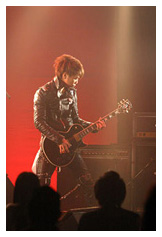 I really don't like punk fashion since it's so tight... *laughs*
Narimiya-san has something he felt was hard to do during filming, which is…?!
"I really don't like punk fashion. *laughs* I add a taste of rock in my daily wear but I'm not used to punk. I am wearing it basically for the first time… But it is tight and hard to cope with. *laughs* The clothing is tight and clingy and the platforms shoes make me trip when I'm moving my feet constantly. Last time, I was eating while wearing a choker, and felt I couldn't swallow properly because of it. *laughs*"
Even thought he dislikes it, he is charmed by the coolness of the punk fashion.
"I honestly think it looks cool. The color on the plaid base is pretty to look at. There are lots of fashions, but punk has built it's own solid world. When you wear it, you have to act punk or it wont look cool. I find this quite fun. I once asked Yazawa-san how she could create such a fashionable world, and she replied, "Because I love clothing." I think this is the same as how Nobu likes clothing and guitar. If I carry that emotion with me, I can adapt to Nobu easily and enjoy the fashion.
---
Hiroki Narimiya
Born on September 14th, 1982 in Tokyo. As you know, he is a very popular actor performing in dramas, movies and on stage. This is his second time starring in Ai Yazawa's movie, as he was in "Kagen no Tsuki (Last Quarter)."
>> Visit "S Woman's NANA" For More Info