News Archive >> "TAKUMI" - In the New COOKIE FRESH!!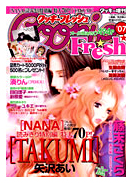 "TAKUMI"
Special Bonus Manga 3
Released in the Latest COOKIE FRESH!!!
Oh wow! Check out the cover to the latest release of Shueisha's "Cookie Fresh" magazine! It looks SO good! Finally, the highly anticipated bonus manga story of "TAKUMI" has been released in Japan on March 15th 2007! That's 70 pages of Takumi Ichinose goodness for "NANA" fans! So if you haven't ordered your copy yet, please give your local Kinokuniya stores a call! Also being released in Japan, is "NANA - Volume 17." So pull out your wallets and spend your lunch money!
COOKE FRESH's Magazine Code is [ 03268 ]
Sources @ [ Cookie Fresh || S-NANA Official Site ]