News Archive >> Anna Tsuchiya Smooths Out Her Rough Edges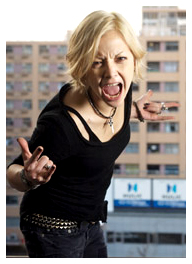 Anna Tsuchiya PHOTO BY TSUTOMU FUJITA
Anna Tsuchiya

Smooths Out Her Rough Edges

Article from "Japan Today" [ Source ]
Published: February 26th 2007
By Chris Betros
TOKYO — It's hard to know what to make of Anna Tsuchiya. The 22-year-old Japanese-American singer/actress has cultivated an image of punk through her music and movies, especially her debut film "Shimotsuma Monogatari" (Kamikaze Girls) in 2004, in which she played a foul-mouthed biker. Yet, Tsuchiya says that isn't what she is all about.
"People have this scary image of me only because I look like a punk. But really, I'm just challenging their misconceptions. Rock and punk have nothing to do with hate. I think I'm like most people in wanting to bring about a change ... and I'm having fun at the same time. The reason I did 'Shimotsuma' is because I wanted to tell society that people who identify with this subculture aren't in it because they are bad or don't fit in."
Born to a Japanese mother and American father, Tsuchiya grew up in Japan with no thought of going into showbiz. "I wanted to be a Disneyland dancer or dolphin trainer, but my mother wasn't keen on that." At 14, she started modeling for clothing brands UNIQLO and Edwin before kicking off her music career in 2002 as half of the short-lived rock duo Spin Aqua.
Tsuchiya says her English has gotten a little rusty, although she is OK with hearing. However, she sings in English and writes lyrics in English. "I think them up in Japanese and then translate them into English," she explains. "For singing, I find English has a wider range of expressions to express my themes."
Her themes, evident in "Taste My Beat," "Slap That Naughty Boy," "Strip me?" "Rose," "Kuroi Namida" and "Lucy" (the last three featured in the hit anime TV series "NANA"), are often dark. "One of the things that appealed to me about 'NANA' is that it helped put punk rock in the mainstream. Young people these days don't know Aerosmith, Guns N' Roses or Queen in their full glory, and probably have a warped image of this music. Rock is primarily about conveying one's complicated inner sensitivities. 'NANA' gave me a chance to sing songs that aren't just sweet and happy. There is no point hiding from honesty; there is always good in bad, so that is why I sing songs that tend to be dark and sexual. It's not that I don't have interest in lyrics that are bright. It is just that aesthetically I find true beauty in raw intensity," says Tsuchiya who likes to record with American musicians, among them members of bands such as Guns N' Roses, Limp Bizkit and Nine Inch Nails.
These are busy days for Tsuchiya. She has just returned from Germany where her latest film, "Sakuran," was entered in the Berlin Film Festival. Based on a manga series, "Sakuran" tells the story of a young girl (Tsuchiya) who is sold into a brothel in Edo Era Japan and grows up to become a famous courtesan.
However, Tsuchiya says music remains her first love. "I'll still make movies, but I'm not dreaming of becoming a big star or anything. I guess I'm lucky to be able to do something I love. I don't even think of all this as work. I feel sorry when I see so many people in society now who don't seem to have any dream or ambition." Tsuchiya maintains a hectic schedule, balancing her work with raising her 2-year-old son Sky. "I can get by with three hours sleep and try to keep a healthy lifestyle. I love fish, vegetables and pineapples. No junk food, either, but I don't mind tequila." Whenever she gets free time, Tsuchiya enjoys basketball and jump rope. "I love cooking, too. You wouldn't think so to look at me, would you?"