News Archive >> Aya Hirano @ Anime Expo 2007...!!!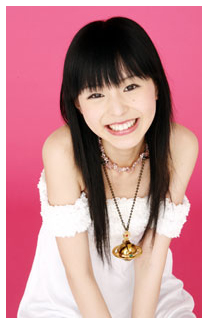 Aya Hirano
Reira Serizawa's Voice Actress
Coming to Anime Expo 2007...!!!
Official Anime Expo Press Release:
May 25, 2007 (Anaheim, CA) ­-- Anime Expo® 2007, Bandai Entertainment Inc., and Kadokawa Pictures USA announced today that the "Melancholy of Haruhi Suzumiya" will be celebrated at this year¹s Anime Expo® convention, held at the Long Beach Convention Center June 29 to July 2, 2007, with the "SOS Brigade Invasion Tour."
The SOS Brigade is a reference to the school club formed by Haruhi Suzumiya, the eccentric lead character of this series, which has been nothing short of a phenomenon in Japan and is making its North American debut on DVD on May 29th 2007.
Aya Hirano (Haruhi), Yuko Goto (Mikuru), and Minori Chihara (Yuki), renowned worldwide for their performances in both the Haruhi television series and the character soundtracks will be attending as Official Guests of Honor at this year¹s Anime Expo®.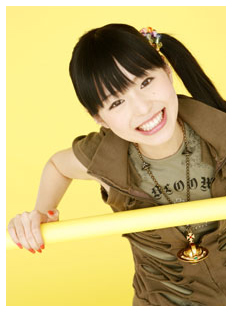 In addition to appearing on panels and having autograph sessions, the three voice leads, will also be performing in a live concert on Saturday June 30th 2007 at 4:30 pm at the Long Beach Arena, next to the convention center. They will be performing such hit songs as "Bouken Desho Desho?" and "Hare Hare Yukai." Winner of Bandai Entertainment Inc Haruhi Dance Contest will be allowed to come up on stage and perform the infamous dance with the voice actresses, live on stage. The concert will be free for Anime Expo® attendees.
"We are excited to be working with Anime Expo® and Kadokawa Pictures USA to bring the voice talents who have made Haruhi so successful in Japan for their first appearance in North America," said Ken Iyadomi, President of Bandai Entertainment. "Please join us as the SOS Brigade Invasion continues."
Aya Hirano, Yuko Goto and Minori Chihara join Tetsuro Araki, Eisaku Inoue, Masaru Kitao, Mary Elizabeth McGlynn and ORESKABAND as Anime Expo® 2007 Official Guests of Honor.
AYA HIRANO

Born October 8, 1987 in the Aichi Prefecture. Aya Hirano has risen from relative obscurity to become the hottest young voice actress in Japan. Highly regarded and extremely well known for her role as the title character Haruhi Suzumiya in "The Melancholy of Haruhi Suzumiya." Derived from the popular series of light novels "The Melancholy of Haruhi Suzumiya" has become a cultural phenomenon in Japan. Aya Hirano¹s career was further cemented with the release of the "Bouken Desho Desho" CD Single, featuring her vocals which subsequently sold out of Japanese stores upon its first day for release. She has since gone on to win the first annual seiyu awards for "Best Newcomer" for her role as the character ­ Haruhi Suzumiya.