News Archive >> Anna Tsuchiya @ Anime Expo 2007!!!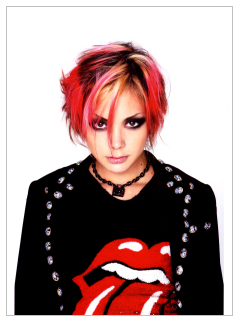 Anna Tsuchiya
Performing Live Concert
At Anime Expo 2007...!!!
Official Anime Expo Press Release:
Anaheim, California (June 4, 2007) --- Model, actress and singer Anna Tsuchiya is the latest addition to the hottest line up of Anime Expo® 2007 Guests of Honors for the highly anticipated 2007 convention June 29 to July 2 at the Long Beach Convention Center.
Ms. Tsuchiya has packed much into her short career since she first started modeling in her teens in the late 1990s. She has appeared in fashion shows, television commercials, performed as a stage actress and find time for a recording career. She did much to confound her image as a pop idol by starring as a foul-mouthed, leather-clad yakuza biker girl in the hit movie "Kamikaze Girls." Anna scored her first top 10 hit with her third single "Rose," the opening theme song to the anime television series "NANA," in 2006.
Born in Tokyo on March 11, 1984 to a Japanese mother and American father, Anna Tsuchiya did not have to wait long for her introduction to the showbiz world, getting her first break modeling for the Japanese teen fashion magazine Seventeen in 1998, aged 14. This break led to appearances on television and her becoming the first Japanese model to model for the jeans brand Edwin. Her profile was raised when she starred in Tetsuya Nakashima¹s award-winning 2004 movie "Kamikaze Girls," alongside another idol, Kyoko Fukada.
Anna¹s music career began in 2002 as half of the rock duo Spin Aqua. The group earned a record deal with P-Vine, but quickly disbanded without making an impact, allowing Anna to pursue a solo career. The six-track mini-album "Taste My Beat," released in 2005 on the Avex Trax "indie" imprint Mad Pray, featured Anna on the cover in her characteristic panda-eye black mascara, but Anna¹s look was more sweet-sucking gothic vamp than Dusty Springfield¹s girl next door. Musically, the album was all polished, pop-metal riffing and power ballads with obligatory soaring string arrangements. An album of remixes was released in early 2006, featuring reworkings by respected house producers Shinichi Osawa (of Mondo Grosso) and Yukihiro Fukutomi, among others.
Anna continued to cultivate an edgy image, which had first begun with her appearance in "Kamikazi Girls," on her debut full-length, "Strip me?" (2006). The album peaked at number 11 in the Oricon charts and featured guest turns from A Perfect Circle drummer Josh Freese and session players who had previously worked with Garbage and Avril Lavigne. Most of the lyrics were in English and penned by Anna. The album also brought on board the hard rockin¹ rhythm section of Duff McKagan and Matt Sorum (Guns N¹ Roses, Velvet Revolver) on "Rose," which was used as the opening theme to the anime "NANA," based on a popular manga series of the same name. "Rose" reached number 6 on the Oricon chart and Anna capitalized on its success by performing a sold-out tour of Japan¹s club venues and performing at one of Japan¹s biggest summer rock festivals, Summer Sonic. The album was not without its brighter, poppier moments, though, encapsulated in the sprightly reworking of Cyndi Lauper¹s adult-pop hit "True Colors."
Also in summer 2006, Anna performed nine songs (and modeled) as part of the Japanese fashion, music and anime showcase, Tokyo Summer Collection in Paris, leading some excited sections of the French media to dub Anna "the Japanese Madonna."
(Official biography provided by David Hickey)
Despite a rise in her musical profile, Anna kept her hand in acting when she took on the voice of Lindsay Lohan¹s character in the Japanese-language version of the Disney film "Herbie Fully Loaded."
Ms. Tsuchiya will be performing a full one hour live concert at Anime Expo® on Saturday; June 30, 2007 at the Anime Expo® Main Events Hall (Long Beach Arena).