News Archive >> Anna Tsuchiya's World Tour from the Success of "NANA"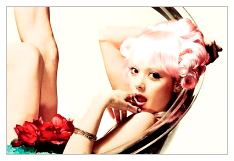 Anna Tsuchiya
To Perform World Tour
From the Success of "NANA"
Live At The US's Largest Anime Convention
On June 21st, information was clarified that model / actress / singer, Anna Tsuchiya, will be doing her very first Japanese world tour. Anna Tsuchiya loaned her voice for NTV's successful anime, "NANA," which broadcasted in many countries oversea. Because of this, a large amount of positive recognition was placed on Anna's incredible vocals. It triggered the scheduling for Anna to perform on June 30th in Long Beach, CA, at Anime Expo (the US's largest anime convention). From that, a tour has been developed for her to make an appearance in Korea, Taiwan, and Japan. And lastly, a best album will be released into 43 countries world wide.
In 1998, Anna Tsuchiya had her debut as a fashion model in the Japanese teen magazine, "Seventeen." She went on to star in the 2004 hit movie, "Shimotsuma Monogatari," and 2006's "Sakuran." Anna released her first solo major debut as a singer through her mini album, "Taste My Beat" in 2005. It paved the way for Anna to be casted as the vocalist of the infamous Oosaki Nana in "NANA;" Beginning with the theme song, "Rose."
"NANA" is an internationally popular manga created by Ai Yazawa. The anime has been licensed in 21 countries, including the United States and Great Britain. By singing the theme song to "NANA," Anna's vocals captured the attention of many new fans. In the previous year at Paris's "Japan Expo," she performed live in front of 8000 people. Anna Tsuchiya was introduced as the "Japanese Madonna," and requests for her appearance began to pour in from around the world. Therefore, a world tour has been determined.
Anna Tsuchiya is scheduled to perform in the US at the "Anime Expo," on June 30th. On July 27th, she will be in Incheon, South Korea; And in Taiwan on July 29th. A new song, "BABBLE TRIP" will be released on August 1st, and will be distributed world wide through iTunes.
Anna Tsuchiya is thrilled with going on tour: "On Paris's stage, I felt like 'there are no boundaries in music.' I want to perform all over the world! And that thought just got stronger. So a world tour is really great!"
Sources: [ Yahoo Japan 1 || Yahoo Japan 2 ]