News Archive >> Random Mika Gossip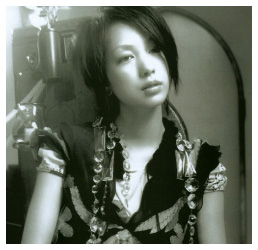 Mika Nakashima
Really Random Gossip
Translated by Lisa
As a web mistress, searching for Mika Nakashima news can sometimes prove to be really amusing. I may not find what I'm looking for, but just reading through some articles keep me entertained. Below are just some random gossip on our favorite singer/actress, Mika Nakashima. Don't take it to heart. Remember: Its just gossip.
Mika Nakashima Disappointed by Paris: No Cute Guys!!
July 3rd, 2005 - Yahoo News - [ Source ]
[ Asahi News ] After the filming of "NANA the Movie," Mika Nakashima quietly flew to London and Paris for a two week vacation. At the same time, she also took pictures and documented her trip for a magazine feature. The vacation was a very successful and rich experience. Aside from visiting museums on Middle Aged artifacts and weapons, Mika browsed through a large amount of Vivienne Westwood's fashion line for inspiration.
Afterwards, she toured France. Because she read the novel The Da Vinci Code, she had a lot of interest in the landscapes and areas of France. However, sadly, she did not find a French gentleman whom she would be interested in. Mika was VERY disappointed!
Not to be Beaten by Competition Otsuka Ai
Mika Nakashima Sports a "Homeless" Look!
May 23rd, 2005 - Yahoo News - [ Source ]
[ Asahi News ] The ever glamorous Mika Nakashima, while filming a video for her single "Hitori," practically dressed up like a "homeless person." Once again, she surprises her fans.
In the past year, Japan's former reigning queens, Ayumi Hamasaki and Utada Hikaru, have both lost massive star power in the entertainment industry. Taking their places are Mika Nakashima and Otsuka Ai, two songstresses who fight for power in both the music industry and magazines. Both hope to acquire the un-ending support of female fans. But once again, Mika Nakashima has won another battle by proving that her image is very interchangeable.
When Otsuka Ai featured an underwear line for her tour, Mika Nakashima got even. She teamed up with the super popular brand, "Hysteric Glamour," and came out with her own line of underwear. Each pair can be sold for up to $150 USD!! Does that mean Mika's name has become a new name brand?
The fans are very touched by Mika's efforts!
And because Mika Nakashima can easily change her image, for her music video "Hitori," she sports the look of a "homeless" person. Even though her costume was suppose to make her look like a "homeless" lady, she still looks elegantly beautiful. Also, while filming, the director required for Mika to sit in a high altitude for a scene. Mika is extremely afraid of heights, but because she is also very professional, she made it through the scene without a single complaint. Such efforts are greatly recognized by all her fans!