News Archive >> Award Season 2007 Schedule for Nakashima Mika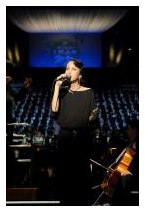 Nakashima Mika
Award Season Schedule
Winter 2007
First and foremost, congratulations to Nakashima Mika! The list of highly coveted artists for the annual NHK Kouhaku Uta Gassen have been announced and shows that Mika will once again be performing at the event. This is a very big honor, as only the most recognized and successful artists (in that particular year) are invited to perform. And this will be Mika's sixth time on the show, no less! Much congrats!
Nakashima Mika's schedule for the award season of 2007 is quickly filling up. On her Official Site, she is scheduled for the following shows:
+ December 5, 2007 - 2007 FNS Kayousai
+ December 11, 2007 - 2007 Best Artist
+ December 23, 2007 - 25th Annual Suntory's "No. 9" of 10 Thousand People
+ December 31, 2007 - 2007 NHK Kouhaku Uta Gassen
On December 2nd 2007, was the date which Nakashima Mika performed as a special guest for the "25th Annual Suntory's No. 9 of 10 Thousand People." She appeared on stage barefooted, dressed in a classy black dress. Under the musical direction of Sado Yutaka, Mika sang three songs which included the hits "Life" and "The Rose." The song "Silent Night" was performed together with a chorus of ten thousand people!
Mika expressed, "Although I was feeling nervous, it was extremely wonderful." The program will be broadcasted on December 23rd 2007 on MBS.
Nakashima Mika, who is famously known for changing her "look" every now and then, have been sporting her line-straight bangs for nearly half a year now. Rumor has it that her image will once again be going through a change very soon. Mika was seen doing a magazine photoshoot under the guise of a lady club singer of the 1920's and 30's. The look was said to be very seductive with dark eyeliners, red lipstick, and curly hair; All of which was supervised by Mika herself. The set of this photoshoot took place at a night club which was built in 1931. A lot of detail was said to be put into this photo session, with Nakashima Mika greatly contributing artistically to the project.
Sources: [ Orisun || Daily Sports Online || MikaNakashima.com || Yahoo Japan ]