News Archive >> Mika Nakashima FASHION SKETCHBOOK Vol. 67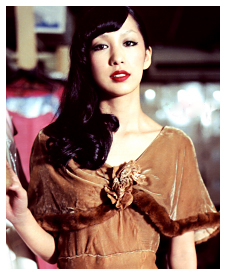 Mika Nakashima
"Pretty Style" Magazine
Fashion Sketchbook Vol. 67
Translated by MiMi (Thanks MiMi!!)
Nakashima Mika's modern girl.
The song princess that gently
landed this X-Mas.
"Modern girl, its strong, beautiful..and new."
"What a lady likes. To be immersed in laces."
"I think of you, and sing an eternal poetry."
[ Pg. 75 ] Recently, Mika's new trend is jewelry from Michael Negrin. "I'm not used to wearing accesories, but Michael Negrin's set ups are put together gorgeously and never disorderly." The jewelry she wears here are her own.
[ Pg. 76 ] "I want the next theme to be modern girl. So far it's the most exact fashion key word."
During the meeting for this fashion special, it was Mika herself who spoke up. Until now, we have always produced images that fit to Mika's songs. She claims that, while collaborating with jazz punk band "Katte ni Shiyagare" to come up with costumes for the live, she became attracted to the modern girl perspective.
"The image of the song was 'cabaret'. At first without any resource and research, I was simply attracted to the modern girl image. But when I looked it up, I learned that it was popular between the 1920s and 1930s era. I then looked through photo books of the generation and started applying the make-up and fashion. It's the first time I did all this by myself!"
To make this possible we carried out the shoot at a Ginza cabaret, "Shiroi Bara" (White Rose). It was built in 1931. This is where the modern girls of Tokyo hang out in those times.
"I loved the red interior and nostalgic feel of the old lockers in the make-up room."
And finally, if you were to wear modern girl fashion privately...?
"It's not a very active fashion, so it might be enough to subtly take up fur coat. Or more simply, through make-up."
As Christmas is approaching, why not show through your feminine side and challenge the modern girl fashion...?
...Lastly, Mika's wish for Christmas: "I hope it will be a free day. And I hope Dio fixes his peeing habit..."