News Archive >> Aoi Miyazaki To Judge Kouhaku 2007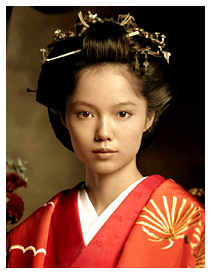 Miyazaki Aoi
To Serve As a Judge
For NHK's Kouhaku 2007
It has just been announced that 19 year old idol Aragaki Yui and 22 year old actress Miyazaki Aoi, have both been chosen to serve as judges for NHK's annual Kouhaku Uta Gassen.
Aragaki Yui showcased a fantasic year in 2007 and is highly suitable for the "red and white" theme. Not only did she star in everything from movies to TV dramas, she even debuted with her first single. Her first live was performed at Nippon Budokan Hall!
Miyazaki Aoi has been a very important face to NHK. In the previous year, she starred in the NHK TV drama, "Junko Kirari," which brought in great ratings and reviews. On January 6th 2008, one of NHK's larger projects "Atsuhime" will broadcast, which stars Aoi as one of the youngest leaders during the taiga period. Another reason which may have sealed the decision for Aoi to be a judge, was that she married actor Takaoka Sosuke in the June of 2007. Very suitable for the "red and white" theme indeed!
Sources @ [ Yahoo Japan 1 || Yahoo Japan 2 ]