News Archive >> "NANA" Movie to Run in L.A. & N.Y.C.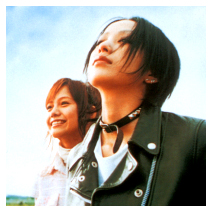 "NANA" Movie
To Run in L.A. & N.Y.C.
Source: [ AnimeNewsNetwork ]
Viz Pictures, the live-action film company linked to manga publisher Viz Media, has announced the North American theatrical screenings for both the live-action "NANA" film and the "Funky Forest" anthology. Both films premiered in Japan in 2005. The ImaginAsian Center in Los Angeles will screen "NANA," the first of two film adaptations of Ai Yazawa's "NANA" manga about two polar-opposite roommates, during March 21st – 27th 2008. The ImaginAsian Theatre in New York City will screen the movie during April 4th - 10th 2008. The movie's New York screenings will coincide with the April 8th 2008 DVD release. The movie had aired along with its 2006 sequel with Chinese subtitles on Canada's Omni TV Ontario in October, and it also ran during December's New York Anime Festival. ----- Source: [ Anime News Network ]
VIZ Media's Press Release
Theatrical Screenings of Manga Inspired Film
"NANA" in Los Angeles and New York
Story of Two Women Searching For Love And Meaning Amidst the Hustle and Bustle of Tokyo A Box Office Hit In Japan.
[ San Francisco, CA, February 26, 2008 ] – VIZ Pictures, an affiliate of Viz Media, LLC that focuses on Japanese live-action film distribution, has announced a pair of new theatrical runs scheduled for New York and Los Angeles of "NANA," a live action film directed by Ootani Kentarou and based on the best-selling shojo manga (graphic novel) series by Ai Yazawa.
"NANA" will screen in Los Angeles, March 21-27 at the IMAGINASIAN CENTER and then in New York, April 4-10 at the IMAGINASIAN THEATRE. Press screenings for both locations are also planned and theater information follows at the end of this release.
"NANA" follows the adventures of two girls both named NANA. While they share the same name, they couldn't be more different. NANA "Hachi" Komatsu follows her boyfriend to Tokyo and hopes to make a new start, while NANA Osaki, who arrives in the city at the same time, is a punk rock beauty who has the ambition to make it big in the world of rock and roll. Although these two young women come from vastly different backgrounds, they quickly become best friends. What sets them apart, however, is the stark difference between their lives. One NANA comes from a small town, following her friends and boyfriend but ultimately looking for her own goal to obtain, while the other NANA has a single-minded aim to make her dream and band, the Black Stones, among the best in Japan.
"NANA" performed well at the Japanese box office upon its release in 2006, grossing more than 4 billion yen and staying in the Top 10 for several weeks. The main theme from the film, "Glamorous Sky," took the number 1 spot on Japan's Oricon charts in its first two weeks of sales and quickly sold over 450,000 copies. Another song from the film, "Endless Story," took the number 2 spot on the same chart in its first week of release and sold over 300,000 copies. The English version of the manga series has sold over 22 million copies in Japan, is published domestically by Viz Media under its Shojo Beat imprint.
"NANA presents a realistic and sometimes gritty portrayal of two modern women searching for love, careers and a sense of purpose amidst the urban bustle of Tokyo," says Manami Iboshi, Director, Marketing, VIZ Pictures. "The manga series on which the film is based has been critically acclaimed and demonstrates the versatility of manga-inspired plots to transition from print to film in such a compelling way. NANA was warmly received at its U.S. premiere at the 2007 New York Anime Festival, and we look forward to audiences in Los Angeles and New York enjoying the film."
Theatre information:

LOS ANGELES
Press Screening: March 5, 2:00pm
Theatrical Screening: March 21-27
IMAGINASIAN CENTER
251 South Main Street,
Los Angeles, CA 90012
(213) 617-1033

NEW YORK
Press Screening: March 19, 2:00pm
Theatrical Screening: April 4-10
IMAGINASIAN THEATRE
239 East 59th Street (between 2nd and 3rd Ave.)
New York 10022
(212) 371-6682