News Archive >> Mika's "Nana" Look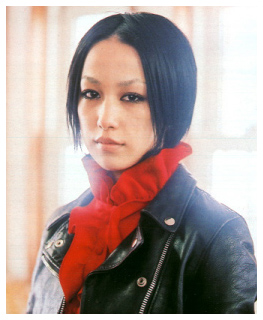 Mika's "Nana" Look
Get Out of Mika's Hair Already
Translated by Lisa
When Mika Nakashima trimmed off her long hair and had "Nana's" Vivienne Westwood jacket wrapped around her shoulders, people began to talk. "She ruined her image!" "Why oh why did she cut off her hair?!" Yadda yadda yadda. Get over it. Its hair, and it'll grow back. In my personal opinion , her short hair is wonderful. So is her new look. But opinions vary. Here is what some reporters had to say:
Mika Nakashima Cuts Off Her Long Hair For A Movie
March 3rd, 2005 - Yahoo! Music News - [ Source ]
In order to better capture the escense of the leading character, for her role in the shoujo manga based movie "Nana," Mika Nakashima decided to cut off her well known long hair. Mika didn't seem to be too distraught about cutting off her long hair. In her perspective, because she is a big fan of "Nana," to be casted in the movie is like a dream come true. Also, her character Osaki Nana has a tendency to adorn herself in Vivienne Westwood, which is also one of Mika Nakashima's favorite brand of clothing. She is completely thrilled to be able to dressed in a different style of clothing for the movie.
Mika Nakashima is planning the release of her third album, "Music" this month (March 9th 2005). On the cover of the CD, Mika holds a sea shell to the side of her ears, in hope that everyone will listen to her music. In this big album, she sings in a variety of ballads, free jazz mixed in with a bit of techno. Mika laughed softly and said that she feels a bit nervous challenging her own style of music. Still not feeling satisfied after she was done recording, she gathered a group of friends and went to a local karaoke bar to express herself and celebrate.
Mika Nakashima's New Movie Destroys Her Self Image
April 21st, 2005 - Yahoo! Entertainment News - [ Source ]
[ Sun News Report ] - After Mika Nakashima's announcement that she will be taking on the role of Osaki Nana for "Nana the Movie," her own self image has gradually transformed into something very hardcore. Recently, in order to obtain the image of a punk girl for her role, Mika thoroughly destroyed her well known "Queen of Romantic Ballads" look.
"Nana the Movie" is already deep into it's production. On all the recent press release and previews for the movie, Mika's "punk look" seems to be the main highlight. Many of Mika's fans are understanding of her new look and said that in order to play the role well, she sacrificed her self image for it. In doing so, she gained the new respect of many fans because it shows that Mika is very professional. "Nana the Movie" will be hitting big screens in the Fall of 2005. In the meantime, "Nana Cafe" grand opened and attracted many of Mika Nakashima's fans in attendance.
NANA the Movie
April 7th, 2005 - Hong Kong Overseas Entertainment - [ Source ]
Mika Nakashima is currently in the process of filming her second movie, "Nana." To better fit her role, Mika trimmed off a head full of her hair. "Nana" is a manga by Ai Yazawa, who illustrates the enduring pain of growing into adulthood. Mika's character is an orphan and is the lead singer of a rock band. While on a train heading for Tokyo, she meets a nice girl who also shares her name. In a life originally destined to be lonely, the two girls' meeting trigger a series of friendship and hope for the new future.