News Archive >> Mika's "Let's Music Tour"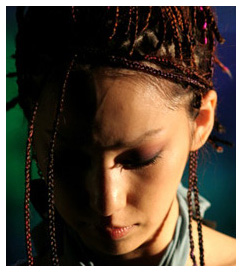 Let's Music Tour
Mika Nakashima In Concert
Translated by Lisa

There is much excitement over Mika Nakashima's "Let's Music Tour" DVD release in November 2005. This is one of her most successful concert tours yet. While much attention was drawn to the fact that she performed in "Oosaki Nana" gear, there is much more to the concert. This article gives a clearer picture of the Mika Nakashima experience.
Mika Nakashima Challenges Both Classical and Rock
July 30th, 2005 - HiNet News - [ Source ]
At her concert, Japan's newest born super star, Mika Nakashima changed into punk leather gear as manga character "Oosaki Nana" for her fans. This is because she is the leading star of "NANA the Movie," which is set to be in theaters this coming September 3rd. She performed the movie's main theme, a punk rock song called "Glamorous Sky" at the concert.
Mika Nakashima performed her "Let's Music Tour" on July 29th at the Tokyo International Forum. It was the last show being performed at Tokyo. The concert used her third album "Music" as the main theme of the show, offering fans a variety of music from rock, to soft ballads, a little bit of techno, folk melodies and more.
Mika Nakashima, who had always been known to be different, expressed herself in a variety of looks throughout the show. With her hair fashioned in colorful braids, she first dawned the stage in a flowy long gown. With different background sceneries, she performed the songs, "Amazing Grace," "Kumo no Ito" and other ballads.
During mid-show, Mika changed into punk rock gear, complete with leather cap and Vivienne Westwood jacket, to give her fans a surprise. She performed "Glamorous Sky," the theme song to "NANA the Movie" which is set to show in theaters on September 3rd. Mika Nakashima is the strong female lead in the movie.
Fans also got to see a personal side of Mika. Like she was sharing secrets with close friends, she said that she once saw angels. Angels are the little children and elders all around. She said that many of her close friends had this experience before as well. She even laughed and asked that anyone in the audience who has seen angels, to please relay this information with other fans on the world wide web.
At the concert, Mika Nakashima also performed the songs "Yuki no Hana," "Legend," "Ai Shiteru," and more. Fans were lured into her strong mesmerizing voice. Lastly, Mika transformed herself into a Nepalese girl and sang the ballads, "Sakurairo Maukoro" and "Hitori." And as the atmosphere was filled with the romance that Mika created, the concert drifted to an end.