News Archive >> Mika & Ryuhei Goes to Hong Kong!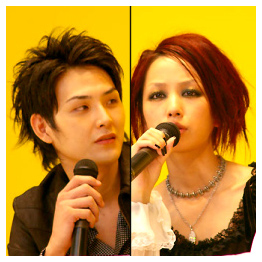 Mika & Ryuhei
Goes to Hong Kong!
Translated by Lisa

Awww... Man!! You people in Hong Kong are soooooo lucky! Mika Nakashima and Ryuhei Matsuda will be heading there on October 2nd to do promotion for "NANA the Movie." If you can get a chance to go, take a lot of pictures! In the mean time, let me drown myself in jealousy.
With Ryuhei Matsuda in Toll for "NANA" Promotion
Mika Will Swiftly Jet to Hong Kong for 24 Hours
August 26th, 2005 - Yahoo News - [ Source ]
The reigning Queen of Entertainment in Japan, Mika Nakashima, will go to Hong Kong! Mika, who has never been to Hong Kong, will head there for the first time on October 2nd, 2005. For promotion of "NANA the Movie," in which she stars, Mika will be there alongside male co-star Ryuhei Matsuda. Both will try their very best in 24 hours, to launch "NANA the Movie" in Hong Kong.
Currently over these past summer months, there have been a great popularity for Japanese films in Hong Kong. Aside from Shinobu Yaguchi's "Swing Girls," and "Hinokio," there are excitement for "Densha Otoko," Yagira Yuya's "Hoshi ni Natta Shounen," and the much waited for animation "Touch" will arrive in Hong Kong. But none of these movies have generated as much flair and anticipation as Mika Nakashima starring in "NANA the Movie."
For promotion, "NANA's" production company have scheduled Mika Nakashima to make a very brief appearance in Hong Kong on October 2nd. With Ryuhei Matsuda there for support, both will be attending a huge press conference. Many reporters will be coming from all over Asia for this event to get a chance to photograph and interview the very popular Mika. Surely, there will be a sea of people in attendance just to see her!