News Archive >> Mika & Reira: Last Minute Promotions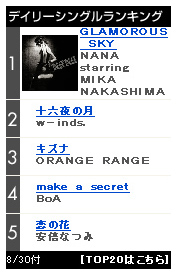 Mika & Reira
Last Minute Promotions
Written by Lisa
The big day that NANA fans are waiting for, is almost here! "NANA the Movie" is set for big screen release in just two days! And before the movie is open to the public, the stars are doing last minute promotions everywhere. Let's begin with the latest news from Yuna Ito's Official Site:
"At the Harajuku Quest Hall on August 31st, was the special preview for the movie, "NANA." Nana and Reira were both in attendance! Mika Nakashima and Yuna Ito, the two songstresses both performed live as a surprise.
Debuting as the role of Reira in "NANA the Movie," Yuna Ito appeared to the media for the first time. Surprising the audience, she performed the song "Endless Story" while dressed as Reira from the movie."
Yuna Ito's website also reports that the upcoming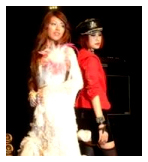 week will be spent promoting her song "Endless Story." She is doing as many last minute promotions as possible to promote both her song and "NANA."
MTV Japan is also running a huge "NANA" special program. On September 1st beginning at 9 to 9:30 P.M., MTV will air behind-the-scenes and interviews with Hiroki Narimiya and Ryuhei Matsuda. This will be aired from September 1st - September 4th.
Lastly, congratulations to Mika Nakashima! Her song "Glamorous Sky" is No. 1 on Oricon Style's daily singles. Oricon Style also set up a special "NANA" page on their site. Remember to get the special September 2nd issue of Oricon Style magazine, where there will be a HUGE "NANA" feature. =)
***Super thanks to Ayudorama for helping me find the Mika / Yuna pictures!