News Archive >> "NANA the Movie" Phenomenon II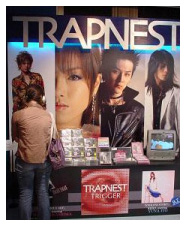 "NANA" Phenomenon II
NANA Making History
Written By Lisa
As everyone is reading this, "NANA the Movie" already hit big screens everywhere in Japan. Tickets that were being sold in advance were sold out everywhere. Fans who were not lucky enough to grab a "September 3rd" ticket beforehand, all flocked online to buy expensive tickets from scalpers on Yahoo Japan. And even though some tickets from scalpers were being sold for 150% of the original price, every single ticket was bought.
During this time, merchants in Japan are taking full advantage of the "NANA" phenomenon.

Currently in Kichijoji's "Tower Records" store, is a scene from where "NANA the Movie" was filmed. The display for the "Glamorous Sky" mini album and "FM 707" DVD, is where Hachi led Nana into a record store to pick up a Trapnest album. Now that "NANA the Movie" is out, the display is set up to draw in customers. This display will be up till September 26th.
Karaoke clubs are cashing in as well. One of the most popular karaoke chains in Japan, "Big Echo," is having a collaboration with "NANA." "Big Echo" splashed "NANA" all over the walls and stairs of their stores. There are karaoke where "NANA" fans can sing along to the theme song of the movie, while touching scenes play along in the background. Customers who are waiting for a karaoke room can sit in the reception area, where an original "NANA the Movie" introduction video will be showing.
But the best part of all, are the limited edition "NANA" coasters that will be given to anyone who purchases a drink at "Big Echo." Participating "Big Echo" stores are Shibuya, Sukiyabashi, and Yokohoma West Entrance.
Lastly, one of the most historical symbols of "NANA's" success are the appearance of the "NANA Trains." At the beginning of August, to celebrate, promote, and commemorate the release of the 13th volume of the manga, trains in Tokyo were decorated with "NANA" designs. NANA-NANA.net's very own Helen was there two weeks ago in Japan to witness this phenomenon.
"I didn't think it was a big deal, but my friend was in shock saying that manga has never been on trains for as long as she could remember. It really proves how big NANA really is now." ~ Helen
* Image of NANA train was taken from here