News Archive >> Last Day In Hong Kong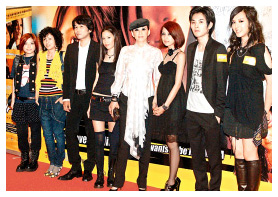 The Last Day
End of Hong Kong Promotion
Translated by Lisa
Mika sure looks tired. I can't blame her. She's been doing promo work three days straight! *lol* I have to translate articles three nights in a row and I already feel exhausted. =) Well, this is the end of the "Hong Kong Saga!"
She Didn't Forget To Go Shopping Before Leaving HK
Mika Nakashima Goes On A Super Speedy Shopping Spree
October 4th 2005 - Orisun News - [ Source ]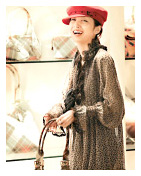 After sweeping through three days in Hong Kong, Japan's reigning queen Mika Nakashima boarded the noon flight and returned home to Japan. Before she left, she took advantage of the little time she had and went shopping. She was given a ride by a specially assigned car and shopped for half an hour. Mika even took the time to chat and joke around with store workers. Her attitude was extremely friendly.
Not certain whether its because of her tightly packed schedule, but a very exhausted looking Mika Nakashima appeared in the grand hotel lobby at approximately 10:50 A.M. She wasn't showing her usual super star energy. With two assistants and one translator, they got in a personal car and went to the Golden Antique Center with plans to shop. However, with a change of mind, they went to an authentic Vivienne Westwood store instead. While on the escalator, Mika began to laugh and expressed that she was very touched so many reporters are following her for a story.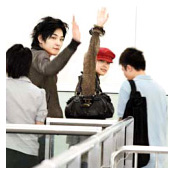 Well known for loving name brands, Mika Nakashima decided to look at fall fashions and purses first. When she was done, she paid for a pair of jeans and a red belt. During the time she was shopping, she chatted and joked with the store workers. She further surprised everyone by having her assistant open the door wider in the store, to allow the reporters to take a big picture of the group. Being extremely sneaky and silly, as she was leaving, she did not forget to wave and smile to all the cameras.
She had a sandwich for lunch.
On the way back to the hotel, she stopped at Jianshazui's "Starbucks" to buy three sandwiches and fruit for lunch. At 1:50 P.M., she scheduled to leave the hotel with "NANA's"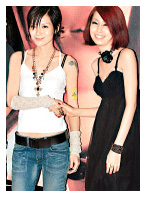 leading male Ryuhei Matsuda and Director Kentarou Ootani. They got in another personal car and the three headed for the airport.
About 30 fans who wanted a chance to see their idols, went to the airport really early to wait for them. Luckily, it did not escalate into a chaotic scene. At approximately 2:45 P.M., the three entered the clerk passage way, turned around to wave 'good bye,' and ended their turbulent three day trip.
Also, two nights ago, Mika appeared at the "NANA" special movie premiere. Super star Candy Lo, Tiffany Lee, Candice Yu and her daughter all unexpectedly showed up dressed in "NANA" inspired outfits. Lam Cheung Quan, a band member of the popular rock band "Climax," also came to the premiere in a "punk" outfit. There were also many teen girls cosplaying "NANA" who shined brightly. Mika, on the other hand, wore a black evening dress matched with black silk stalkings. Many stars, who weren't as popular, all fought to have their pictures taken with her.