News Archive >> Japan's "NANA" Addiction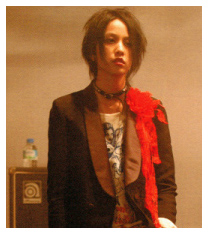 Japan's "NANA" Addiction
Sets Taiwanese Market On Fire
Translated by Lisa
"NANA the Movie" will premiere in Hong Kong and Taiwan on November 4th, 2005. The whole "NANA" storm is effecting many parts of Asia. Fans have been joking around about a Taiwanese "NANA" remake. ^.^ Quite frankly, I wouldn't mind. Adaptation of Japanese manga in Taiwanese dramas/movies are extremely well made. =D
Mika Nakashima Powerfully Attracts
Japan's "NANA" Addiction
Set Taiwan's Online Auctions On Fire
October 23rd 2005 - Official Chinese NANA Movie Site - [ Source ]
Taiwan's premiere date for "NANA," a movie which took Japan by storm, is rapidly nearing. Outfits inspired by the costumes worn by Mika Nakashima and Aoi Miyazaki in the movie, is the hottest fashion statement on the market. If you type in the word "NANA" in any of the major online auctions, no doubt a lot of clothing similar to those worn in the movie will appear.
Not only that! Sharp eyed fans on the internet pointed out that a recent photograph of Jolin Tsai and Jay Chou, showed the two stars dressed in fashions similar to the movie. So who copied who!? For about half a year, ever since the debut of the "NANA" movie trailer, which showed Mika Nakashima wearing a leopard print Vivienne Westwood jacket; She has been regarded as a pioneer of this "leopard print" fashion.
In reality, because of Mika Nakashima's role in "NANA the Movie," the popularity has made her a leading trend setter. Aside from a lot of teenage girls immitating her smokey Vivienne Westwood look, Japan's Oricon Style magazine recently published that Mika Nakashima's popularity boost from "NANA," has made her the "Number One Female Artist" in Japan.
Manga artist Ai Yazawa, "NANA's" brilliant creator, is a super fan of Vivienne Westwood. She passionately included the Vivienne Westwood feel through out her whole manga. Recently, Taipei's fashion markets have declared that the "Vivienne Westwood Boom" is being embraced richly by the younger generation. It is apparent that the "Vivienne" attitude is greatly loved by teens.
Being true to the manga "NANA," the movie have clothed many of it's actors in real and imaginative clothing from the Vivienne Westwood fashion line. Mika Nakashima's role in the movie is Oosaki Nana, a leader singer in a punk band, who dresses in various signature Vivienne Westwood outfits. Her co-star Aoi Miyazaki plays the role of Komatsu Nana, a girl who expresses her flair of colorful fashion and innocence through a variety of small accessories.
It has also been reported that recent auctions in Taiwan, have soared well over $10,000 (in Taiwan cash) for Vivienne Westwood outfits. Even "NANA" inspired cosplay fashion made by fans in Japan and Taiwan, have had an excellent selling price in return. So far, it seems that the most popular products are the Vivienne Westwood star orbed earrings, the leather jacket, and various mini skirts worn by Mika Nakashima in the movie.
Also, because the manga "NANA" has generated many loyal fans in Taiwan, not excluding the many fans of the actors in the movie; Any news about "NANA the Movie" at all, will have a major echo effect. Recently, the hottest discussion is: "If there is a Taiwanese NANA Movie, who should be casted?" As a result, a parody website has been made to cater to fan opinion on who should be casted for a "Taiwanese NANA Movie." Votes from fans are taken at So-Net Be You on "NANA" fan opinion. So far, it seem that fans agree for Yang Nai Wen to play Mika Nakashima's "Oosaki Nana" role; And Vivian Hsu to play Aoi Miyazaki's "Komatsu Nana" role.
"NANA" previously premiered in Japan on September 3rd. Not only did the movie transmit a new type of romance and love for fashion, it generated a stir of discussion and immitation among female fans. It created a hot market effect for it's music, movie, manga and even seized a record ranking of three crowns (a type of ranking in Asia?). The movie has currently grossed over $30 million (USD) in Japan. Statistics show that the movie will bring in a record exceeding $100 million (USD), which places "NANA" as the highest ranking Japanese movie of 2005.