News Archive >> "Paradise Kiss" Anime - Newtype Article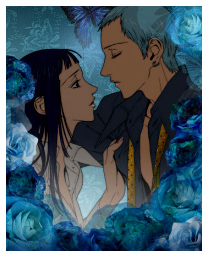 Paradise Kiss
More Than Just Anime
Published by Newtype-USA
Currently Airing on TV in Japan.
Illustrated by Takehiro Hamatsu
Finished by Madhouse
Coordination by Osamu Kobayashi
Text by Yoko Oochi

Staff:
Creator: Ai Yazawa
Director: Osamu Kobayashi
Character Design: Noibuteru Yuki
Animation Production: Madhouse
Story: Yukari is a hard-working student whose life revolves around school. One day, a group of designer hopefuls asks her to model their new "Paradise Kiss" clothing line at their school fashion show. Yukari is a little freaked out by her eccentric new friends, but she begins to admire their courage, and fashion quickly becomes her new passion. Along the way she developes another passion -- she's fallen for group leader George!
Paradise Kiss - More Than Just Anime
November 2005 Issue - Newtype USA - [ Source ]
If you're looking for a warm but stylish show with a splash of romance, then Paradise Kiss is for you. Based on the manga (available in English from TOKYOPOP) by talented graphic storyteller Ai Yazawa and directed by Osamu Kobayashi (BECK), the highly anticipated show airs on Fuji TV's special anime block NOITAMINA ("Taking anime in a new direction" -- hint: read it backwards). With the success of the recent live-action film adaptation of Yazawa's manga NANA, expectations are high for Paradise Kiss.
Kobayashi, who so vividly portrayed a young boy's adolescence in BECK, was eager to join the production of this new anime. "I heard about the job before I started working on BECK," he explains. The enthusiasm in his voice is palpable. "I was so excited about it, I accepted it without even thinking twice! This goes for both BECK and Paradise Kiss, basically I'm interested in creating good stories and going beyond the bounds of what we think of as animation. I want something very realistic -- one idea was shooting Paradise Kiss in widescreen format, like a movie."
Visually speaking, the new show seems very promising. "The original manga is great as-is, but I'd still like to inject some of my own style into the anime," Kobayashi continues. "Don't worry, though -- I'm not trying to do anything extreme. Ultimately, all I want is to make a show that everyone will enjoy."
The fact that Kobayashi is writing the script himself shows his dedication to making sure the story speaks to the audience. "The anime may be only 12 episodes, but we're not leaving anything out from the manga," he says. "I felt we needed to portray every aspect of the original story because Paradise Kiss isn't just about two people falling in love. It focuses on Yukari and George's romance in the beginning, but that's just a lead-in to the deeper story. The later parts are more about the choices each character makes regarding the future."
The Paradise Kiss manga was known for its fashionable yet eccentric costume designs. Can we expect to see some of that in the anime, too? "Fashion is an important element of the show, but it's actually very difficult to animate patterned cloth," notes Kobayashi, "We thought about it for a while and decided to use the same technique they used in Gankutsuou. We even went so far as to hire a stylist for the show, a young lady named Asami Kiyokawa. She's in charge of the wardrobe and style of each character, as if they were real actors and actresses. We're also talking to a fashion designer about producing the costumes the characters wear in the show. If we're lucky, we might even be able to have a fashion show of our own!"
Paradise Kiss recently began airinng on TV in Japan. Fuji TV producer Yoko Matsuzaki revealed that they made a specific request for Kobayashi to direct a show for the new NOITAMINA block: "We asked him because many of us believe in his work. Once we met him, we knew right away that we'd made the right choice. Shoujo titles can be very hard to animate, but we're willing to take risks with NOITAMINA as long as the end product is entertaining."