News Archive >> NANA Entertainment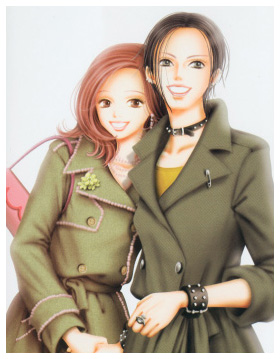 NANA Entertainment
Takes Japan By Storm
Translated by Lisa
It is no doubt that "NANA" is the hottest topic in Japan. Not only is the manga a frenzy among the girls in Japan, but it even lured the Queen of Music, Mika Nakashima, to sign up for the leading role in "NANA the Movie." Thirteen of Japan's most popular artists even dedicated a whole album to this manga series. After the passion that this manga invoked in everyone, the world can no longer ignore the power that the Japanese comic industry commands.
"NANA" Takes Japan's Entertainment Industry By Storm
May 1st 2005 - HiNet Entertainment News - [ Source ]
Ai Yazawa is the artist behind the romantic manga, "NANA." The storyline begins with two girls both named "Nana" by coincidence, but have two completely different personalities. Osaki Nana is a girl with a dream to become a rock star. Komatsu Nana is a girl who has a tendency to fall in love at first sight. After its first publication in the manga magazine, "Cookie," it captured practically all of Japan's high school girls as fans. Stars like Utada Hikaru and Ayumi Hamasaki both admitted to being big fans of the manga, "NANA."
So far, "NANA" has been published up to 12 volumes. Sales for the manga have reached far above the number of 22,000,000 million copies. This is a big deal in the manga world because the large number of sales generated by the manga "NANA" is almost unheard of. Taiwan has also picked up publication for "NANA," and so far, each volume has sold over 30,000 copies. The manga's fan base is increasing everyday because word of its greatness is travelling quickly by advertisement from its fans.
"NANA the Movie," set to be released into theaters this coming fall, is highly anticipated by "NANA" fans. "NANA the Movie's" top three roles (Osaki Nana, Terashima Nobuo, and Komatsu Nana) will be played by Mika Nakashima, Narimiya Hiroki, and Miyazaki Aoi. Other roles have been snatched up by huge stars like Matsuda Ryuhei and Tamayama Tetsuji. The all-star cast for the movie is another pushing reason for many fans to wait in heavy anticipation for its release.
Mika Nakashima is probably the most notable star to the movie's cast. Since her debut into the entertainment world, this will be Mika's biggest project yet. For her role, not only did Mika trim off her hair, she gave herself a full body makeover. Looking at her style now, one can see that Mika have truly acquired Osaki Nana's essence.
Respect for "NANA" have extended to the world of music as well. 13 top musicians, all who share a love for "NANA," released a album called "Love for NANA ~ Only 1 Tribute" on March 26, 2005. The artists featured were from many genres and reached out to different ages. Though the musicians were from different record labels, for this one combined CD, it did not matter. These artists include Otsuka Ai, Do As Infanity, Tetsu69, TommyHeavenly6, Skye Sweetnam, etc. The artists each represent themselves as one of the two bands in the manga. For example, one artist would represent their song as if they are from the band "Trapnest" or "Blackstones." These songs finally can give fans a understanding of the two bands from the manga, and finally give an imaginary voice (songs) to "Trapnest" and "Blackstones."
"NANA Cafe," a new treat from the makers of "NANA," is a combination of "NANA" the manga, and "NANA the Movie." The cafe, which is the "Cafe Suite" remodeled, transformed itself into the temporary, "NANA Cafe." (March 15th, 2005 through April 14th, 2005.) The store expressed not only the essence of "NANA," but had "Hachi Strawberry Cakes," "Nana Chocolate Cakes," and many other desserts that had to do with the characters of the manga. Even though "NANA Cafe" is temporary, it gave its fans a very short but unforgetable memory.
"NANA's" entertainment value was so high, that PlayStation2 even released a "role playing game" for it. In the game, you play in the place of each of the characters of "NANA." If one is really absorbed while playing the game, you can feel that you have truly become a character in "NANA" as well.
NANA Cafe Merchandise & Advertisements
Shueisha's Girls Comics! - March 2005







>> For more info on NANA Cafe visit the [ Official Site ]