News Archive >> Mika Nakashima's New Single "CRY NO MORE"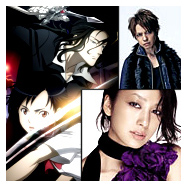 "CRY NO MORE"
Mika & Hyde Pairs Up Again!
It looks like Mika Nakashima and HYDE are pairing up once again!! Mika and HYDE are both going to be singing the second installment theme songs to the hit TBS anime "BLOOD+." HYDE will be singing the opening theme called, "SEASON'S CALL." Mika on the other hand, will be singing the ending theme called, "CRY NO MORE," which will be her first experience with the genre of Gospel Blues. The songs will both televise in January 2006 as the second installment theme songs of "BLOOD+," and will both be on separate singles on February 22nd 2006. HYDE expressed that he had noticed Mika's existence even before "NANA." It is said that the pair have now developed a very deep friendship with one another. =) Many are wondering what this golden pair will be planning together in the future.
Sources: [ Yahoo News || BLOOD+ Official || Mika Nakashima Official ]