News Archive >> "Academy" Time For "NANA"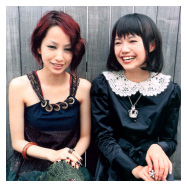 Academy Time!
"NANA" Actresses Stole 2005?
With year 2005 ending, comes the time of recognition for great actors, actresses, directors, and movies. That's right! The " 29th Japan Academy Prize" nominations have now been casted; And proudly, our wonderful Mika Nakashima has been nominated for "Outstanding Performance by Actress in a Leading Role" and "Rookie of the Year." Congrats Mika! This is an extremely prestigious nomination! NTV will broadcast the award ceremony on March 3rd 2006 (The same day NANA movie is released on DVD.) from 9-11 PM Japan time. Also, the "Japan Academy Prize" gives away one "Subject" award each year to the most deserving actor/actress/movie. So if you have been thoroughly captivated by ANY Japanese movie, actor, or actress, please nominate them for this very important award.
Aside from the wonderful casting in the "Academy," "NANA" actresses continue to rule the award ceremonies by being nominated in the "48th Blue Ribbon Awards." Our two "Nana's", Aoi Miyazaki and Mika Nakashima, were both nominated and are going head to head for the "Best Female Actress" award. The award ceremony will be held in Iino Hall in Tokyo on February 7th, 2006.
Lastly, Yuna Ito's upcoming second single has been delayed to be released on March 1st, 2006. The title track of the single is called "Faith" with "Pureyes" as the b-side single. Her single can now be pre-ordered on Amazon Japan. =)
Sources: [ Japan Prize Academy || Sanspo News || Yuna Ito's Official Site ]
And really really big thanks to Matunaga for emailing me about this information! I SO love you for this!