News Archive >> Mika & Yuna @ Tokyo FM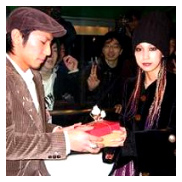 Mika & Yuna
Interviews at Tokyo FM
Translated by Lisa
Mika Nakashima and Yuna Ito both made different appearances on February 12th at Tokyo FM. Both promoting their upcoming new singles, each revealed something new about themselves to the listeners. The whole process of music promotion begins once again.
Mika Nakashima Declared Honorary Citizen of Memphis
February 13th 2006 - Yahoo News - [ Source ]
At the end of the previous year, Japanese songstress Mika Nakashima travelled very far to Memphis "Holy Land of R&B," to film the music video for her upcoming single, "Cry No More." Mika was really happy that the Mayor handed her the Golden Key, and even formally declared that Mika is a honorary citizen to Memphis City; Becoming the first Japanese woman to be presented with this honor. Wearing dread locks, Mika appeared at Tokyo FM's radio show on February 12th, where the good news was announced on air.
Because of the serious hurricanes last year, Memphis City suffered a lot of damages. The citizens were greatly affected. The Mayor felt that Mika's music would help the restoration of the slumming economy in Memphis, therefore issuing Mika an honorary position. As for Valentine's Day, Mika chose two male fans from the audience and personally handed them each a box of chocolate. =)
Being Strict! Yuna Ito's Appearance In Shibuya, Tokyo
February 13th 2006 - Yahoo News - [ Source ]
Yuna Ito at age 23, had her first NHK Kouhaku performance just last year. On February 12th, Yuna made an appearance in Shibuya, Tokyo at Spain Hall Studio for Tokyo FM's "Fukazawa Rina - Portraits of Life" radio show.
The Hawaiian native waved excitedly at the crowd of 200 fans and greeted, "Everyone, HI!!!" On the show, Yuna revealed that she had a very strict upbringing. "My mother is a very strict person, and opposed the idea of me entering the entertainment industry till the very end."
Smiling, she also said, "I was really happy to be able to participate in the Kouhaku song battles, a show I've watched together with my father since I was a kid."
Yuna Ito's second single, "Faith," theme song to the Japanese drama "Unfair," will be released on March 1st, 2006.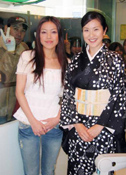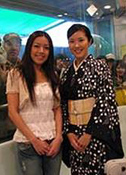 * Thanks to Mara for submitting these pictures! <3<3<3
[ Note ] - YunaIto.com is holding their first contest! Enter to win Yuna's latest single, "Faith!"