News Archive >> Anna & Olivia Are New "NANA" Songstresses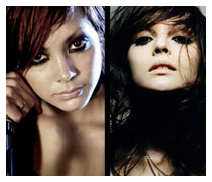 Tsuchiya Anna & Olivia
To Be "NANA" Anime Songstresses
March 9th, 2006 - Yahoo News - [ Source ]
It is understood that singer / actress Tsuchiya Anna (age 21), and female rock star Olivia (age 26) have been chosen to sing the theme songs for the upcoming "NANA" anime; Broadcasting on April 5th, 2006.
The production is the work of Ai Yazawa, whose manga is being transformed into anime. The 15th Volume of her manga, "NANA," will be released on March 15th. It is estimated to sell 2,500,000 copies, totalling her sales for this series to a whopping 34,500,000 copies. This creates the record for the highest sales number for any shoujo manga. Last year, Mika Nakashima (age 23) and Aoi Miyazaki (age 20) starred in the live action adaptation of "NANA." This time, Tsuchiya Anna will be in Mika's place as "Blackstone's" lead vocalist, Oosaki Nana. Anna will represent Nana's voice in the song, "Rose."
According to sources, creator Ai Yazawa is a big Tsuchiya Anna fan. Tsuchiya Anna expresses, "Nana's pain, loneliness, and sorrow are necessary feelings to sing this song, but I do not know how to go about achieving this."
Olivia, on the other hand, will be representing the voice of lead singer Reira, from the super rock band "Trapnest." She will be singing the ending theme, "A Little Pain," which is performed by Trapnest's vocalist, Reira. Olivia relates, "Reira's loneliness, pain, and strengths. I think the variety of feelings are in the song."