News Archive >> The Manga That Women Love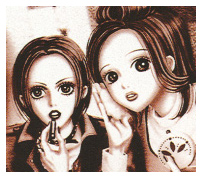 Manga That Women Love
Ranked by Hardcore
Shoujo Manga Fangirls!
Source: [ Oricon Style ] - May 15, 2006
In an earliar issue of "Oricon Style," the editors asked all female fans of shoujo comics to mail in their opinions on the type of manga which they love. These girls mailed in their opinions, attractions, and interests to help rank shoujo comics. Curiously, what type of manga appeal to a female...?
Standing in 1st place is none other than "NANA," the storyline which introduced two girls by the name of "Oosaki Nana and Komatsu Nana." The will of the two "Nanas" to guide their own fate, deeply touched the hearts of their many female readers. Many vouched for Oosaki Nana and Komatsu Nana, who both have great fashion styles and exciting love lives. The two leading characters have such opposite personalities, but lead the readers to yearn for both girls. Voters have overwhelmingly put "NANA" in the top spot.
Popular works by mangaka Ai Yazawa continue to leave deep impressions on the rankings. "Tenshi Nanka Ja Nai" took in 4th place, while "Paradise Kiss" stood proudly in 8th. It shows that Ai Yazawa can not only succeed with "NANA," but will continue to appeal to the female audience in the future.
Incidentally, "Oricon Style" also had their female readers rank their favorite comic magazine. Shockingly, the magazine "Shounen Jump" took in 1st place! Who would've thought that a boys' manga magazine would rank in 1st among females? "Shounen Jump" only took in 5th place with male readers. Standing strongly in 2nd place, would be none other than "Cookie" magazine which not only features "NANA," but a number of talented artists as well. =)
Most Popular Shoujo Manga Rankings:
1.) NANA
2.) Hana Yori Dango
3.) Honey and Clover
4.) Tenshi Nanka Ja Nai
5.) Lovely Complex
6.) Ren Ai Catalogue
7.) Bokura ga Ita
8.) Paradise Kiss
9.) Ouran Koukou Host Club
10.) Nodame Cantabile