News Archive >> Anna Tsuchiya Interview with "Mina" Magazine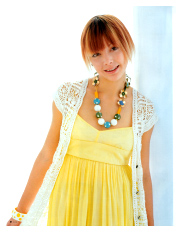 Anna Tsuchiya
Interview with "Mina" Magazine
Translated by Lisa
"Anything that is possible, I want to try and challenge. Because I am a really determined person."
"Good morning~!" Anna Tsuchiya's energetic voice was heard from inside the photography studio. "In the past year, even though it was my first time being challenged by the stage and voice acting gigs, I realized that my favorite jobs are really modelling and being a singer," she mused. Today, it was Anna's high and positive energy that led to a fast and successful photoshoot. Most certainly, her bag was filled with her baby boy's accessories; and using this method of regular family talk, she was able to liven up her whole surrounding. It leaves a lasting impression of her on a person. Known for her unique flair of style, and always trying her best no matter what... This is Anna Tsuchiya.
"When it comes to working, I can't seem to contain my easy going attitude, which is why I can't leave with that conclusion. But if I contain myself with just a feeling of finished business, than I will be doing a great injustice to the Anna who treasures her most precious, which is the child safely tucked in my mind. I think I am able to live such a wonderful and happy life because I have my baby boy. My horizons in the work field have also broaden. No matter how busy it gets, I will still be filled with an ongoing energy. This is a very large change in my life."
Even when speaking of herself one year ago, she still said, "I am very expendable." Being able to protect a love that doesn't ask for anything in return; Being able to finally achieve the type of music she had always wanted to work on; She is fastly reaching a higher level. But it is not certain that she is finally concluding that feeling where she has "done it all." No, the upcoming Anna in the future, is the Anna whom you just can't afford to miss out on.