News Archive >> "It's Comic Books for GIRLS! Get it?"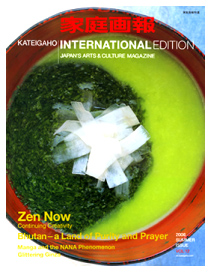 It's Comic Books for GIRLS!
Manga and the NANA Phenomenon
Published by Kateigaho International Magazine
Written by Patric Macias
Manga, or comic books, are a pillar of contemporary Japanese culture, and the biggest growth is in shojo manga, comics about and for girls. For many adolescents, this has become literature to live by. Unlike the appeal of manga for boys - sports, rivalry, and glory - the beauty of shojo manga is its large-as-life characters who learn life's lessons through love and the dilemmas of youth. The stories allow girls to readily identify with the characters' trials and tribulations - though more dramatic than in real life - and it is precisely this emotional investment that gives girls such attachment to the characters. So what's on the minds of contemporary girls, and what kinds of characters are riveting their affinities?
NANA Rides the Latest Wave of
Shojo Manga to the United States
Summer 2006 Issue - Kateigaho International - [ Source ]
Nana Osaki
Nana Osaki is a strong and independent brunette who fronts a rock group. But in turbulent moments - for instance, in her romances - she shows her fragile side. And she admires the feminine sturdiness of Nana Komatsu, who comforts and encourages her with vital words of advice.

Nana Komatsu
Valuing a happy romance above everything else, Nana Komatsu is the ultimate dainty shojo, or girly girl. Yet the strength this blonde shows when tested by life's challenges is commendable. Those around her find themselves attracted to and dependent on her emotional strength.
"I hope you'll look forward to the future of two Nanas!"
When manga (comics) artist Ai Yazawa introduced her new series NANA with those words in 1999, she was addressing an audience of Japanese readers. But seven years after the punky and stylish NANA debuted in the pages of the girls' comic magazine Cookie, young fans worldwide have embraced it.
Allison Rhoades, a 21-year-old NANA fan from Boston, Massachusetts, says, "I like this series primarily because I'm a girl. I just devour all I can get my hands on. The characters are awesome. They have incredible depth, especially for the 'girl manga' genre, where, to be honest, everyone's usually a stereotype."
Written and drawn by Ai Yazawa, NANA is the story of two girls who - either by coincidence or fate - share the same first name. There's Nana Komatsu, an innocent who's slightly inexperienced in the ways of love. And there's Nana Osaki, a cool and confident rock-and-roller who dreams of becoming the biggest star in Japan. Against the odds, the Nanas become best friends and soon share struggles (usually with boys), success, and setbacks on the streets of Tokyo.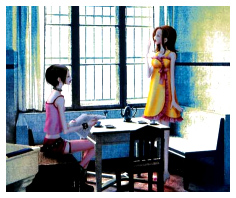 Before NANA, Yazawa created other well-received manga titles such as I'm Not An Angel and Paradise Kiss, but none has been more successful in so many media. Japanese publisher Shueisha has sold more than 23 million copies of the NANA graphic novels. In 2005, a live-action movie adaptation grossed 1 billion yen within a week of release and attracted 1.1 million filmgoers during its run. Even the film's theme song, "Glamorous Sky" (performed by Mika Nakashima, who plays Nana Osaki in the movie) debuted in the number-one spot on the Oricon record sales chart and became the 10th best-selling single of the year.
So far, Yazawa's original manga is the only facet of the NANA phenomenon officially released in America. But that could change with the growth of interest from female readers.
American girls used to be avid readers of romance comics (mostly written and drawn by men, it should be noted) during the 1950s and '60s. But as the decades wore on, boys' superheroes such as Spider-Man and Batman so dominated the market, they drove female readers away from the comics medium almost entirely.
Japanese pop culture has lured them back.
The anime Sailor Moon was first broadcast in North America in 1995, winning over girls in the United States with its mix of fantasy, strong female characters, and romantic high jinks. Suddenly, a generation of young women looked to Japanese animation and comics for entertainment and inspiration. The internet also allowed them to explore other areas of Japanese pop culture, such as the street fashions of Tokyo's Harajuku and Shibuya districts. Altogether, this created an audience ready to devour more shojo manga (girls' comics).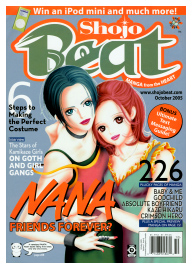 NANA manga has been available to English-language readers since the serial debuted in summer 2005 in the first issue of Shojo Beat magazine from VIZ Media. Shojo Beat is a monthly anthology of Japanese girls' comics, subsequently collected into graphic novels. As Alvin Lu, vice president of publishing of VIZ Media puts it, NANA is "simply the flagship of our shojo line."
NANA wasn't VIZ's first foray into Japanese pop culture. The San Francisco based company, owned by Shueisha Inc., Shogakukan Inc., Ltd., started bringing Japanese anime and manga to the United States two decades ago. While the market has had its ups and downs, sales of shojo manga are dramatically increasing. Lu says, "Shojo manga has been the main driver of manga industry growth in North America for the past several years. I would say overall growth for manga - and comics in general - in the U.S. is going to depend on the teenage female reader."
But having seen the NANA phenomenon in Japan, Megan Bates, managing editor of the Shojo Beat line of books, believes the potential audience for NANA could be bigger than just people who already read Japanese comics. "It's so different that I think a lot of readers who didn't already know about Ai Yazawa's style were a little surprised by it - in a good way. They weren't used to manga that looks so hip and contemporary. The storytelling and character development in this series are so engaging I think anyone who enjoys reading fiction or comics can appreciate Yazawa's technique."
So who is reading NANA graphic novels in the United States? It seems to Bates that, "the people who get really involved in the series are generally a lot like the Nanas: women in their early-to-mid-20s who are in college or just getting started in their professional lives, but who also enjoy being young and fashionable."
That profile fits Lisa Lam, a 22-year-old college student from Sacramento, California, to a tee. Lam is not only a NANA fan, but webmaster of the fan site www.NANA-NANA.net. According to her count, it has attracted an average of 50,000 unique visitors a month since it began in May 2005.
Lam first became a NANA fanatic in late 2004 when, "my friend Julie introduced the manga to me. She told me, 'You MUST read it.' I was too lazy at first, because I heard NANA was a very long manga. But Julie said that if I read the manga and didn't like it, she'd buy me dinner. I ended up reading the manga, and let's just say Julie didn't owe me dinner. The characters are all dress so stylishly. This kind of culture is very different from what's regularly on MTV. But most importantly, Ai Yazawa did such a great job on character development. She made each character in NANA so realistic. Though more people can relate to Nana Komatsu's faults and problems, Nana Osaki's punk appeal and toughness definitely have more fans. Fans can actually relate to almost every single character in NANA. Even the most hated character in the story has fans! It makes the storyline even more compelling and addicting."
Since falling in love with Yazawa's creation, Lam built an on-line NANA shrine to collect news and information about NANA-related projects - past, present, and future. And with a new movie sequel on the horizon and an animated NANA series to talk about, the future is bright.
"NANA fandom is always changing," says Lam. "In some ways, NANA has really become a culture and a name brand. No matter what form NANA takes - whether manga, anime, or movies - as long as it has the label 'NANA,' fans are immediately interested."
And they're popping up all over. Says Lam, "If you look at some of the topics in the NANA.net forums, you'll see subjects like 'The Indonesia Thread' or 'Finally - NANA in Spain!' The fans in these forums are from all over the world! Some fans are younger than 14, while some are almost 30. Even though the forums are in English and not everyone participating is fluent, they all try to communicate because they're all NANA fans."
Nana Komatsu and Nana Osaki would understand even without translation. For NANA fans, it's all about friendship.
** Also included in this issue of Kateigaho International is an interview with Novala Takemoto (creator of Shimotsuma Monogatari a.k.a. Kamikaze Girls), and a insightful look into the Comic Market (Comiket). Now on sale at your local Kinokuniya.