News Archive >> Interview With Kentarou Ootani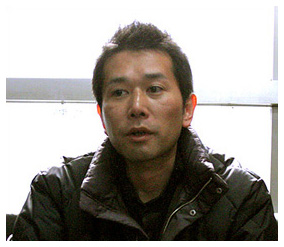 S-Woman's Interview
With Kentarou Ootani
Translated by Ann Ogawa
(THANK YOU SO MUCH ANN!! LUFF YOU!!!)

Director of "NANA the Movie."
"I thought of everything I could for this movie." Kentarou Ootani's interview.
Director Ootani took on the dynamic role of making a movie out of the very popular manga series, "NANA." Please tell us your enthusiasm on this movie!!
Let's start by asking about what he thinks of the manga series, "NANA."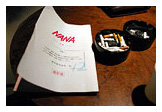 "When the producer told me about this, I read it for the whole day; I even forgot to go to the washroom. I did not think of it as the shoujo manga genre since it was so real and exciting that gender does not matter. What girls are thinking and wanting are expressed very vividly using a mix between fantasy and realism."
Which parts are you particularly paying attention to?
"For one movie, there are usually only one hair & make-up artist and one stylist. But for NANA, I use many different artists and stylists with different tastes for each scene and actor to recreate the comic world. They are all experienced and famous among the fashion world right now, so I am receiving more than I expected. I read the manga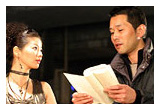 and recreated the clothing as similar as possible; we made things that were not sold too. Nana is usually wearing something rare from Vivienne Westwood, Hachi is wearing the exact same dress as the comic, Yasu's lighter is borrowed from author Yazawa Ai… And so on." *laughs*
I feel that Nana and Hachi are both astonishingly fitting to their characters.
"I did not force them to perfectly fit the original manga characters. Nakashima-san is feeling her inner Nana and acting her out. I feel she did not force anything, but naturally merged with Nana's character."
Since music is important in this movie, wasn't the live scene difficult to film?
"I got BLAST and Trapnest to practice for a long time before the filming took place. Since everyone is quite busy with other roles, most of them sacrificed sleep for practice. We filmed BLAST's live scene first, but I was extremely moved. I can hear their music perfectly, even though it was not edited. Ryuuhei Matsuda is playing Ren. He plays bass for BLAST and guitar for Trapnest,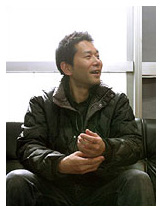 so he had to practice both instruments. It must have been really hard. But the two-shot of Ren and Nana is incredibly powerful! When Nakashima-san is singing and Ryuuhei-kun is playing bass, the aura shown on screen is exceedingly gorgeous!"
Do you have experience with bands?
"I thought, 'I should be able to play too!' and practiced guitar; I can play quite well now! I bought Marine Rider, a guitar with built-in-speakers since the store told me High Rose plays it as well (lol). I can play the theme song and what BLAST played when they were in their hometown. I thought, 'now I should play Trapnest!' but the filming became more intense so I don't have time to practice."
I understand how well made this movie is. I am looking forward to the finished product so good luck director!
---
Kentarou Ootani
Born 1965 in Tokyo prefecture. He debuted in 1999 with "Aven mon Mari" and won numerous awards for it. He has also directed "Torabaiyu" and "Yaku Sanjyu no Uso (About Thirty Lies)."
>> Visit "S Woman's NANA" For More Info