News Archive >> Olivia inspi' Reira's new single "Starless Night"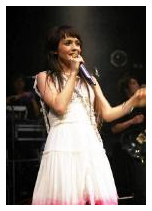 "NANA Anime's" New Single
Olivia's First Concert in
Two and a Half Years!
Olivia's "Happiness" Solo Concert - 26 year old singer, Olivia, held a concert at Shibuya, Tokyo's O-West on the 25th of July.
With the hit single "A Little Pain," which is the ending theme song to Japanese TV's "NANA Anime," Olivia performed a solo concert for the first time in two and a half years. Approximately 550 fans came to support her. Olivia greeted the crowd, "I'm really happy. Thank you all so much for waiting."
She powerfully sang 14 songs including the hit "Dress Me Up." Also, from August 16th onward, "NANA Anime's" new ending theme song will be "Starless Night." The release of "Starless Night" for sale will be in the upcoming Fall season, in which she will be performing live in Osaka, Nagoya, and Tokyo.
Sources: [ Yahoo News 1 || Yahoo News 2 ]