News Archive >> "NANA the Movie 2" Mika & TAKURO's First Collaboration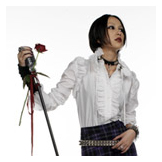 "NANA 2's" Theme Song
Mika & TAKURO's First Collaboration
Translated by Lisa Lam
The theme song of "NANA 2," which is performed by the movie's star Mika Nakashima, is being produced by TAKURO from the infamous rock band GLAY. The song's title is "Hitoiro." Like the previous theme song "Glamorous Sky," which sold about 600,000 copies; The song will be sung by Mika Nakashima representing Oosaki Nana.
TAKURO is producing and composing the song, while Ai Yazawa ("NANA's" creator) writes the lyrics. "Hitoiro" is a rock ballad which will work to support the climax of the movie. It will be performed by (Mika Nakashima) Oosaki Nana's band "Black Stones."
Like the previous song "Glamorous Sky," Mika Nakashima will release the single under the title of "NANA starring Mika Nakashima" on November 29th 2006. Another song for the movie, "Eyes For the Moon," has also been recorded.
Nakashima, who has finished recording, comments, "Singing the song was actually difficult." This is her first time working with TAKURO who, "...Directed me with a gentle nature. He even kindly taught me how to sing the song," she said.
On the other hand, TAKURO comments about Nakashima, "You can't shake her world, as she is the owner of a uniquely wonderful voice. Her smiling face, without the presence of any spite, left a very good impression on me." He did not have to order Mika Nakashima around at all; And the task was completed pleasantly with conversations, which surrounded the topic of TAKURO's child, who was born last year.
The previous song "Glamorous Sky," was produced by L'Arc-en-Ciel's HYDE, for the hit movie which pulled in 4,030 million yen at the box office. This time, because fans hope for something very original, the staff requested for TAKURO's help. To compose the melody, TAKURO repeatedly communicated with Ai Yazawa through email. From Hokodate, Hokkaido, GLAY advanced to Tokyo. TAKURO, who shared experiences similar to the leading character, relates, "I'll do my best to create this melody, so the original depth would not be broken. Expressing in one word, the thought of a human being standing alone in Tokyo's winter... It would be this song," that you would think of.
Source: [ Yahoo Japan || NANA 2 Official Website || MikaNakashima.com ]