News Archive >> "BlackStones" Inspired Band...? "Thee Out Mods"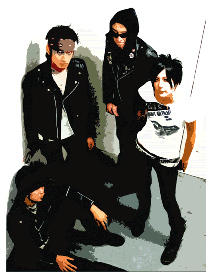 Thee Out Mods
A True Upcoming Punk Band
The inspiring story of how "BlackStones" struggled to Tokyo, is a key element from the wonderful world of "NANA." Fans world wide have praised mangaka Ai Yazawa for weaving a very realistic tale of a punk band's story; Starting from being an indie band, to becoming super popular in the Japanese music scene. Though "NANA" is fiction, ever wondered if there is actually another band out there, just like "BlackStones" trying to make it big...?
"Thee Out Mods" is the name of that group, currently one of the brightest new Japanese punk bands formed in California. The band is still very young, having only began in the summer of 2006. However, they are making the rounds in Los Angeles, leaving behind some very strong impressions on their audience.
At first glance, "Thee Out Mods" looked like they stepped right out from the pages of "NANA." The lead singer SANA sports a very "Oosaki Nana" look. But one of the largest notable differences between SANA, Mika Nakashima (Movie NANA), and Anna Tsuchiya (Anime NANA), is that she is a true punk singer.
"Thee Out Mods" are with the LA based Japanese indie label, "7 Samurai Records." The band is planning to play in the LA area for a year, before heading to Japan with hopes of making it big. If you can, please catch a show and let them know what you think of them. ^__^
Upcoming Show:
7 Samurai Records Presents "Monster Panic vol.2"
11334 Burbank Blvd, North Hollywood, CA 91601
Date: October 27th 2006 - 6:00 PM
Admission: $10 - All Ages
Source: [ Thee Out Mod's MySpace Page ]