News Archive >> Olivia's New Song and New Mini Album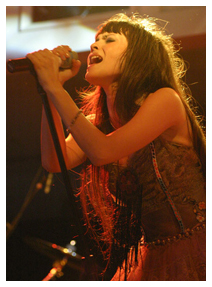 Olivia's New Mini Album
Triumphant Return to
Her Father's Homeland
Currently from the "NANA" NTV anime series, the rival of Oosaki Nana's punk band "BlackStones," Olivia a.k.a. Reira of "Trapnest" is taking full charge of the music scene. On October 11th, the opening and ending theme songs ("Wish"/"Starless Night") went on sale under the title of Olivia inspi' Reira (Trapnest). Her solo tour featuring the single led to a huge success.
On October 28th, Olivia performed a live concert in the United States at the Pacific Media Expo (PMX). This is PMX's third anniversary, attracting roughly 10,000 to 15,000 attendees annually in the United States. The expo features music, movies, anime, and many other form of asian entertainment from the heart of Japan. After being casted as Reira the vocalist of "Trapnest," Olivia was invited to PMX.
Since it was Olivia's first live in her second home country, she was really looking forward to the performance. With advance ticket sales, about 2000 fans came to see her! And because Olivia is so popular, the concert hall had to be extended. Her songs "A Little Pain," "Wish," and "Starless Night" are theme songs for the "NANA" anime. And even though the anime has not broadcasted in the US, American fans still knew of her through "NANA's" popularity. Furthermore, a new song from Olivia was also announced.
"Thank you all for coming today. I've always wanted to do a show here in the United States. I'm very excited to be here and I'm very excited to see you all." Including the encore, Olivia performed 13 songs total.
For the coming January 17th 2007, Olivia will be releasing her first mini-album in three years, titled "The Cloudy Dreamer." A new song, "Dream Catcher," will be included in this album. The song will be a theme song to NTV's new drama, "Jigoku Shoujo," which broadcasts on November 4th.
Sources @ [ Oricon News || YAHOO Japan ]