News Archive >> "NANA 2" Completes Filming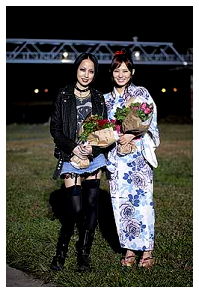 "NANA 2" Completes Filming
Nakashima Mika & Ichikawa Yui
Tears of Joy and Sadness
Nakashima and tears of gratitude--. The anticipated sequel, "NANA 2" finished filming at the Arakawa dry riverbed of Kitaku, Tokyo. The film's two leading stars, Nakashima Mika (age 22) and Ichikawa Yui (age 20), both shared tears of joy and sadness through their eyes.
The story focused on the love and friendship of two women. On that day, Nakashima's Nana and Ichikawa's Hachi, filmed a night scene at the dry riverbed where fireworks were stocked. It was originally a fireworks display scene, but had to be cancelled last minute because it began to rain. At hand were some heavy duty equipments, such as large baseball field lights that were installed for filming at night. Nakashima played her role enthusiastically in a punk-fashioned miniskirt, while Ichikawa was enchanting in a white yukata.
When the last "CUT!!!" was yelled, a very pleased Director Otani passed a bouquet of flowers to the two actresses, who held each other in an embrace. Ichikawa gushed, "In the movie, Hachi yearned after Nana. From the bottom of my heart, I also think Mika-chan is really great. Its so wonderful we can star in this together."
Nakashima echoed the compliment, "I truly see Hachi in Yui too." For one another's "bittersweet loneliness," tears gathered around their eyes. For a whole month and a half of filming, it seems that the friendship of Nana and Hachi are not lost between the two girls.
For a while, because of casting complications, it was doubtful that the movie was going to make the deadline for the film's premiere. However, Director Otani is filled with confidence, "Its possible that this will even exceed the results of the previous movie!" ("NANA 1" = 4,030 million yen)
Although this concludes the movie series, the original manga is still running. The sequel's motto for the two characters, "Right or wrong, just do it!" We dream of the day, when we can meet Nana and Hachi again.
Sources @ [ Oricon News || YAHOO Japan || SANSPO ]