News Archive >> Interview - Yazawa Ai x Tsuchiya Anna x Olivia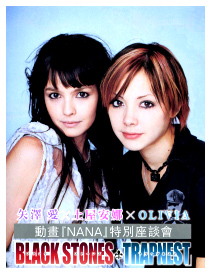 Yazawa Ai - Anna - Olivia
"NANA" Anime Special Talk Session
BlackStones & Trapnest
Published in "Cookie" November 2006 Issue
Tsuchiya Anna and Olivia both have important vocal roles as singers for "NANA" the anime. However, this is the first time the two girls are meeting Yazawa-sensei face to face. Finding out from Yazawa Ai's own mouth, the secret of casting the roles, became an increasingly huge interest for the two. A passionate conversation about the concept of rock and roll...
"I like the feeling as a singer. I really wanted to be Nana!
In my heart, I was thinking that."
Yazawa: "For the vocal singing role of Nana, it HAS to be Anna and no one else!" That was what I originally thought. The feeling where Nana possesses both very strong and vulnerable traits; Singing out loud in hard rock and roll, yet still obtaining that sentimental feeling... All of these traits. Anna's music left behind an impression that I found very similar to what I had in mind for the sound of rock and roll.
Anna: That's great!
Yazawa: I've been a fan of your's since you were a model.
Anna: Wow, really?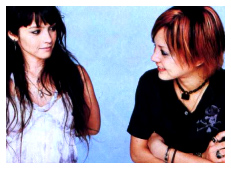 Yazawa: When I found out that you sang too, I immediately started listening to your music. Even though I liked you as a model, I love your feeling as a singer even more. I really hoped for you to play the role of Nana! *laughs* However, even as the original creator, I can't force the situation. Which is why from the beginning, I have stated repeatedly, "I don't want someone who doesn't match the image to take on the task." As a result, production staff sent word to me, "I'm hoping that you would allow Tsuchiya Anna to take the role of Nana." Wonderful! At that time, my heart bursts with joy. I had the feeling that the production staff "really understood me," even without me having to mention it. To have my desires expressed made me really happy. Regarding Nana, they really had the same instincts and harbored my exact sentiments.
Anna: I really want to thank you. Even though Nana's music isn't physically expressed in the manga, when I see the actual drawings, I get this feeling of: "Take everything in my heart and sing it out. That way, I can sing for the rest of my life." No matter how popular she becomes, and no matter how happy she is, in the very end, I think she will still use her music to express herself. If I sang the song without setting myself in that same mind-frame, I would never be able to channel that emotion. Even if Anna appears on the pages of a magazine with that image, the loneliness and other unrelatable feelings will build into a mountain. Being able to draw all that and sing it out in a song, takes off a lot of weight.
"I am so similar to Reira in so many ways, that its terrifying.
Its almost like destiny."
Yazawa: At the time, I couldn't imagine anyone with a voice that was even remotely close to Reira's. It isn't just being able to sing well. I really wanted to find someone who possessed that mysterious essence, and maybe even an ethereal voice that was out of this world. Finding someone with these characteristics is really hard... I thought that it was impossible and was feeling a little depressed about it. But suddenly I thought, "What about that Olivia?" In that moment when I heard her CD, I immediately knew, "This is it..."
Olivia: Whoa! (*happy*)
Yazawa: The songs that Trapnest perform are all very difficult. And because of this, a lot of work was spent organizing this part of the production. To say in the least, Reira's beautiful and high pitched vocals leave a comparatively interesting impression on people. If it was to be interpreted through animation, I had definitely hoped to accomplish this feeling. I decided the moment I heard it. "I finally found it!" It made me so happy!
Olivia: Singing in high pitch through such a profound theme song; For a long time as a singer, this has always been my style. Being able to realize this point makes me really glad. I am so similar to Reira in so many ways, that its terrifying. Its almost like destiny. Everything from how she interacts with surrounding people, to her style, and her strengths and weaknesses, are exactly like my own.
Yazawa: Because "singing" emulate emotions, thinking that a feeling is similar just isn't enough. Everything in your heart has to be expressed. If the vocals singing the song cannot echo this same feeling, then it lacks that same essence.
"A great song that has nothing to do with the times.
I want to keep singing forever."
Anna: Even though I have never met Nana, or had a conversation with her, the "I really love to sing because I love to scream out rock and roll" feelings, are similar to my own. I think that I can really put myself in the song "ROSE." Because it is a great song that has nothing to do with the times, and isn't about rebelling against popular music on the market. If I stack all my years of experience and sing it out, performing it will be even better. I want to keep singing forever.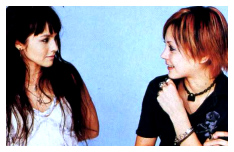 Olivia: Even though I wasn't the one who wrote "A LITTLE PAIN." Me and my co-workers kept thinking about it and thinking about it... Working hard to express our profound thoughts and feelings. Which is why I really like this song.
Yazawa: I really love this song. If I didn't like it, I would have never approved it. *laughs*
Olivia & Anna: *laughs*
Yazawa: For the anime's music production, from start to finish, I was being extremely bratty about it. I probably made the music company cry. *chuckles* I keep repeating to myself, "I'll work harder!" Its true. Of course, if I didn't think something was good, I would not let others approve of it, right? Right. *laughs*
Anna: If you only think about it and don't express it, whether from performing to music, there's no way you would succeed.
Yazawa: Exactly.
** Translated by Lisa Lam
** Images from iKunLun.net.