News Archive >> Mika Nakashima Heads To Hong Kong Once Again!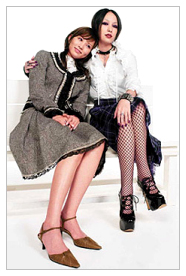 "NANA 2" Promotions
Mika Nakashima Heads To Hong Kong In December 2006 For "NANA 2"
Translated by Lisa
It looks like Jpop queen, Mika Nakashima, will be heading to Hong Kong once again. In mid December 2006, Mika will be dragging her costars of "NANA 2" to Hong Kong for promotion, and hard determination to stir up the "NANA Phenomenon."
The anticipated movie "NANA 2" will premiere in Japan, early December. With plans to catch up on the showing dates, Hong Kong will also be screening the movie in the same month. Golden Scene, the movie company that possesses the screening rights to "NANA 2" in Hong Kong, confirmed that Mika Nakashima and her costars will be going to city for promotion. Mika was a popular sensation the last time she was there. With this as encouragement, and full support from her management company, Mika's party has agreed to visit Hong Kong on December 18th. This is with high hopes of helping "NANA 2" accomplish good results in the box office.
In the role of "Oosaki Nana," Mika will be releasing a full album titled "The End" on December 13th. Of course, Hong Kong's SONY BGM will be using Mika's appearance as a good opportunity to promote the album. Even the famous brand name clothing-line Vivienne Westwood, which is an important element in "NANA 2," has made arrangements to support this event.
"NANA 2's" official trailer and music video for the theme song "Hitoiro" was released just the other day. Scenes of the main cast members getting very cozy, flashed constantly throughout the trailer and PV. Other than segments showing Mika embracing her male lead Nobuo Kyou, there are clips where Yui Ichikawa and Tetsuji Tamayama make-out passionately.
Sources @ [ Yahoo Hong Kong News ]