News Archive >> Evidence of a 2nd Season for "NANA" Anime...?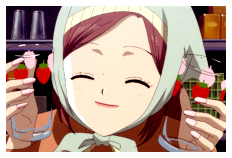 "NANA" Anime
Evidence of a 2nd Season...?
Anime Will Follow Manga Till The End.
One of the best things about running this site, is receiving follow-up information from fans world wide shortly after an article has been posted. In just minutes/hours/days, "NANA" fans were emailing me with information regarding the article about "NANA the Anime" ending broadcast in 2 months. That may be the case, but is there evidence that "NANA" is really ending their 1st Season, and will have a 2nd Season...? Here are some very hopeful emails for you to take a look at:
---
[ From the Adorable Marty: ] Olivia's Official Site updated with news of a new ending theme song, to be used in only two episodes of the anime. It says that the two old Olivia ending songs will be used on two different episodes, followed with three episodes featuring Anna ending songs. Since the anime supposedly ends in two months, I think this implies the episode on March 28th is the last one (and nice timing too, with the "Nana Best Album" coming out a couple days or so before).
However it does only say the end of the First Season; So if the ratings were high enough and they can still get Olivia / Anna to do the music, a Second Season might be possible.
By the way, Anna in a live radio interview said that one (if not both) of the two bonus tracks on her "Anna inspi' Nana" album outlater this month, will be live versions. She also said that she has this new ballad song on there that she really loves, which she described as being very "Evanescence-y."
---
[ From the Adorable Valentina of Ai Yazawa's World: ] I've just read that the anime is ending in two months on your news page and that's exactly why I'm writing you. On January 20th, during the Future Film Festival here in Italy (Bologna), there was a press conference for the premiere of the Italian broadcast of the anime on MTV local with, among others, Junko Koseki ("NANA" editor for Shueisha) and Masao Maruyama (MadHouse president). Someone asked about the end of the anime and the answer was that they've already decided to wait for the end of the manga. So... Maybe there will be a Second season and this is just the end of the first one, isn't it? ^.-
---
*Dum Dum Dum!!!* So there you have it, folks! We have high hopes now, for more episodes of "NANA the Anime" So keep your fingers crossed! =D It looks like you guys will be stuck with me, a LOT longer than you've imagined. BWAHAHAHAHAHHAHAHAHAHHAHAHAHAHHA!!!! Thanks to Marty and Valentina for the wonderfully informative feedbacks! I luff you! <3